If you are a professional writer or someone who wants to write better, you know the importance of using good writing tools.
And when it comes to finding a great writing tool, QuillBot comes out on top.
One of the best writing tools, QuillBot, allows you to paraphrase your sentences. It also polishes up your writing by correcting grammar and offering suggestions for better word choices.
But what will you do if QuillBot goes down?
We presume your landing on this post indicates that you like to remain on guard.
So don't worry—there are plenty of great QuillBot alternatives out there.
The ten best QuillBot alternatives are listed here. Continue reading!
What is QuillBot?
Before exploring the different alternatives to QuillBot, let's learn about QuillBot itself in brief.
QuillBot is a writing tool that mainly allows you to rephrase words, sentences, and even paragraphs.
The tool uses great AI that helps writers create quality articles in no time.
Due to its high efficiency, QuillBot is used by millions of users worldwide.
In addition to paraphrasing tools, QuillBot also offers the Summarizer Tool, Grammar Checker Tool, Plagiarism Checker Tool, and even a Citation Generator Tool.
Features of QuillBot
One of the best features of QuillBot is its paraphrasing tool.
It uses excellent AI that makes your content natural and compelling.
Likewise, QuillBot is so simple and neat that anyone can easily use it.
Its pricing is very reasonable in comparison to the assistance it is offering.
It provides an unlimited free plan.
Its premium plan provides a plagiarism checking option and lets you paraphrase unlimited words.
Why Do People Seek QuillBot Alternatives?
No doubt, QuillBot is a fantastic writing tool. However, for some people, QuillBot may not be sufficient. Let's see why.
Its free plan has character restrictions, i.e., users can only paraphrase 700 characters, i.e., 125 words at a time.
The paraphrased outcomes may occasionally be unnatural. So you may have to proofread and revise.
It also won't let you upload multiple articles at once.
The 10 Best QuillBot Alternatives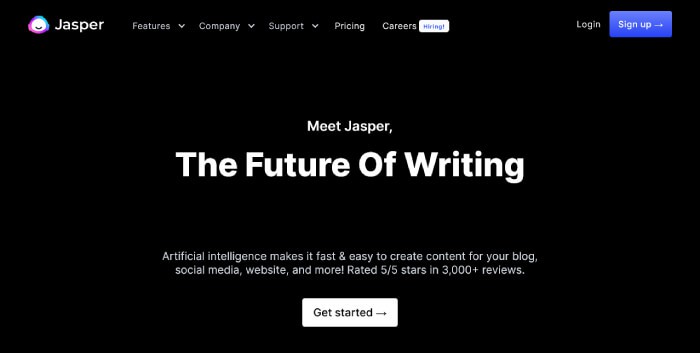 Jasper.Ai is an awesome writing tool that allows you to create better content and copy in a short time span.
Developed as Jarvis by Dave Rogenmoser in 2015, this tool has been assisting millions of writers in creating a variety of content, i.e., from TikTok video captions to blog post outlines, topic ideas, and more.
Additionally, it learns from your writing style and provides intelligent suggestions to improve your grammar, style, and clarity.
Features of Jasper. Ai
Jasper. Ai has a user-friendly interface that makes creating and sharing reports easy.
It provides a wide variety of data visualization options.
The tool provides a robust security model that can be customized to fit your organization's needs.
It has scalability that allows you to grow your usage of Jasper as your needs change.
It also provides listicle content.
It provides blog post ideas, headlines, creative bio ideas, advertisement ideas, and many more.
Pricing
Jasper.Ai provides a free trial and 2 paid plans:
Jasper offers you a free trial period of 5 days where you may explore the tool. However, you are limited to 10,000 words.
This package will cost you about $29 per month. It grants you access to more than 50 AI templates. It enables you to write blog introductions, product descriptions, and so forth. In this plan, the AI tool can generate 20,000 words every month, and as the word count climbs, so does the price.
This package will cost you $59 per month. Jasper will generate 50,000 words every month. If you wish to increase the word count, the price will rise. Also, with the Boss Mode plan, you get access to additional features like Jasper Commands, Plagiarism Checker, SEO mode, and so on.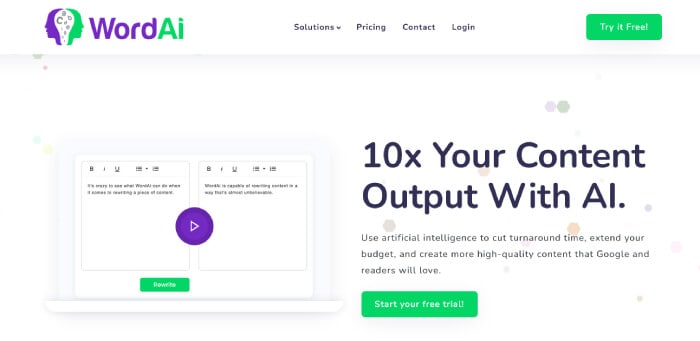 Anyone who wishes to generate high-quality content can benefit from Word Ai. Its advanced artificial intelligence technology allows you to create content that is similar to human writing.
Developed by Alex Cardinell in 2011, WordAi is a great QuillBot alternative that will make you write 10 times faster without compromising quality.
Features of WordAi
With the use of WordAi, you don't have to worry at all about plagiarism. It expresses the same idea in multiple unique ways, so there is no chance of duplicate content.
Never again worry about your deadline. WordAi lets you rewrite long paragraphs and even articles in a very short time.
One of the best features of this writing tool is that it allows you to scale how creative or SEO-friendly you want your content to be.
It lets you create almost 1000 rewrites per the original post.
It allows for group uploads, allowing you to swiftly update a large number of articles at once.
Pricing
This tool offers 3 paid packages and a free trial.
It offers a 3-day free trial where you can explore different features of the tool.
This package is available at $57 per month. With this package, you will have access to a one-click AI-based rewriting tool that allows you to paraphrase several articles at once.
You will get the yearly plan at $27 per month, but the billing process will be done annually. The features you get in this package are no different than those in the monthly one-the only difference is that you will be paying annually instead of monthly.
The pricing of this package is only revealed to those who contact the company to subscribe to it. It is suitable for those who have to deal with a large volume of content. It offers customized rewrites, multiple user accounts, and better content quality.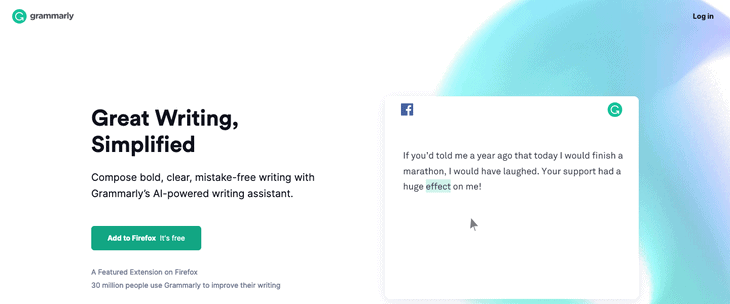 Grammarly is a must-have, popular grammar checking tool that greatly improves your writing. It also lets you rephrase words and sentences.
Developed by Max Lytvyn, Alex Shevchenko, and Dmytro Lider in 2009, this tool makes your content smooth and flawless.
Features of Grammarly
The grammar checker is the core feature of Grammarly. It finds and fixes grammatical errors in your writing.
Its spelling fixer tool highlights the errors in spelling and fixes them in your writing.
The plagiarism checker can help you find and fix instances of plagiarism in your writing. It even provides you with the source of the plagiarized sentence.
Grammarly also has a Chrome extension that helps you improve your writing on any website.
Likewise, it allows you to paraphrase the whole structure of your sentence or phrase.
Pricing
Grammarly offers 2 pricing models and a free plan:
The free package allows you to check your spelling errors, grammar, punctuation, and conciseness.
You can get the premium package for $12 per month. By opting for this package, you will be able to check for plagiarism and adjust the tone and formality level of your writing.
In addition, you can also have clarity-focused sentence rewrites.
This package is specially designed for professionals who want to enhance their business with better and clearer communication. It is available for $12.50 per month.
This package offers you multiple snippets of ideas and various style guides to keep your team's communication precise.
Likewise, it offers you everything that the premium version does, including the plagiarism checker.
Also, around 149 people can use this package, but as the number of members increases, so does the price.
If you are looking for alternatives to Grammarly. Check out this ultimate list: 10 Best Free Grammarly Alternatives.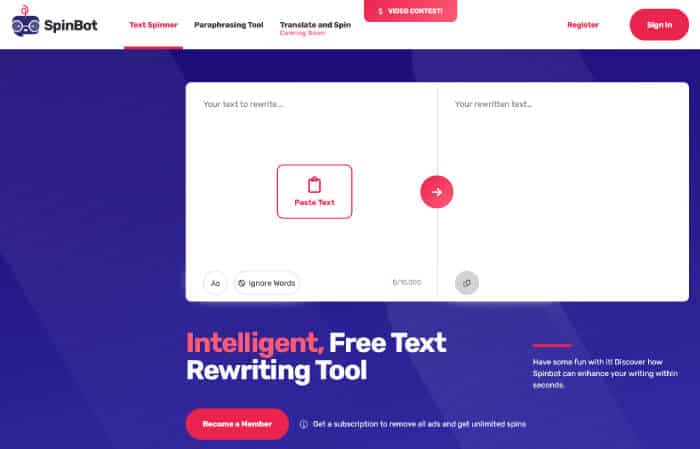 SpinBot is a great QuillBot alternative that allows you to paraphrase a large volume of content. It lets you rewrite almost 1,400–2,000 words, i.e., 10,000 characters at once. With Spinbot, you can spin articles, create new versions of existing articles, and even create brand new articles from scratch.
Developed by Patrick Roberts in 2006, this tool is so effortless to use that it requires no prior experience.
Features of Spinbot
Spinbot provides a very quick and easy way to spin your content.
It allows you to paraphrase sentences and select between the shorter and longer forms of the paraphrased sentences.
With this tool, you can be assured that your paraphrased sentences are smooth and grammatically correct.
Lastly, it allows you to rewrite large chunks of content for free.
Pricing
Including the free version, Spinbot has 3 pricing packages.
The free version allows you to spin your content unlimitedly.
This package is available for just $10.
You can get this package for $50.
The 12-month package is available for $75.
All the pricing packages offer the very same tools as the free package. The only benefit you will get with the paid packages is that you can use the tool without any ads and captcha.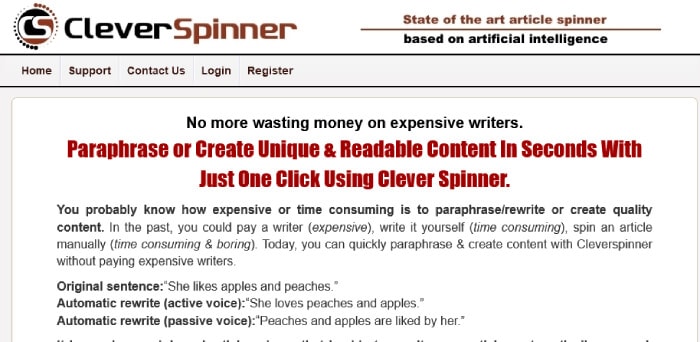 Clever Spinner is a feature-rich article spinning software that allows you to create unique, high-quality articles in just a few clicks. With its easy-to-use interface and powerful features, Clever Spinner saves time and improves the quality of your content.
Developed more than 5 years ago, this writing tool allows you to quickly grasp the context of a statement before paraphrasing it.
Features of the Clever Spinner
Clever Spinner has features like automatic spinning, spin rewriting, and article spinning that save you time while upgrading your work quality.
It's intended to be a user-friendly interface that makes getting started simple.
You can upload numerous articles at once to save time.
The Clever Spinner can paraphrase up to 500 words in a single take. The reduced paraphrasing restriction assures that the quality of the paraphrase stays high.
Pricing
Clever Spinner has only one premium package apart from the free trial.
Clever Spinner offers a 3-day free trial for those who want to try out the tool before subscribing to it. It offers you all the features that are offered in the premium one.
The premium package of Clever Spinner costs you $9.90 per month. It offers users a fast spin time of your content. Also, you get a 30-day money-back guarantee, which means that if you are not satisfied with the tool, you get all your money back with no questions asked.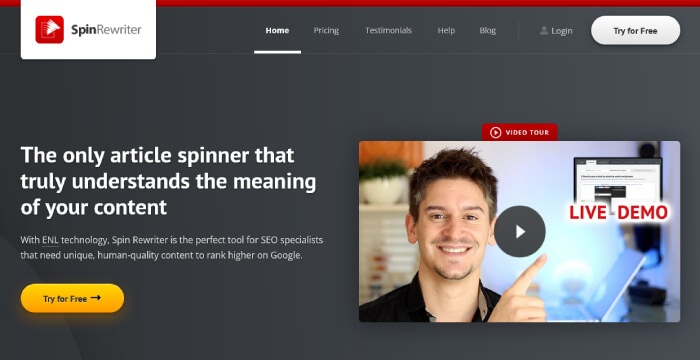 One of the sleekest article spinner tools, Spin Rewriter spins your content, paraphrases it, and provides multiple results. It also lets you spin multiple pieces of content with a single click.
Developed by Aaron Sustar in 2011, this tool allows you to spin long-form content with just one click.
Features of Spin Rewriter
Clever Spinner can be used to generate almost 1000 original pieces of content.
This tool uses integrated artificial intelligence to rewrite and rephrase the texts automatically.
It has a stock photo integration which lets the users add copyright-free photos to the content.
The most compelling aspect is its Emulated Natural Language (ENL) technology, which is significantly more polished and provides far better phrase-level spinning.
It is user-friendly and easy to use.
The quality of rephrasing is very authentic and feels very natural.
It changes the phrases and the sentences along with the words.
Pricing
Clever Spinner has only 3 pricing packages and a free trial.
This tool offers a five-day free trial of all of its features so that users may see what they're receiving before they invest.
This Spin Rewriter package costs you $47 per month. This package helps you with bulk rewriting, spinning, and bulk uploading. Additionally, it provides ENL spinning and lets you paraphrase an unrestricted amount of content.
You get the yearly package for $77 per year. It offers all the features of the monthly package. In addition, it provides users with over 8 million helpful videos and 10 free educational articles.
Unlike any other writing tool, Clever Spinner offers a lifetime plan for only $497. This package is also very similar to the monthly and yearly packages.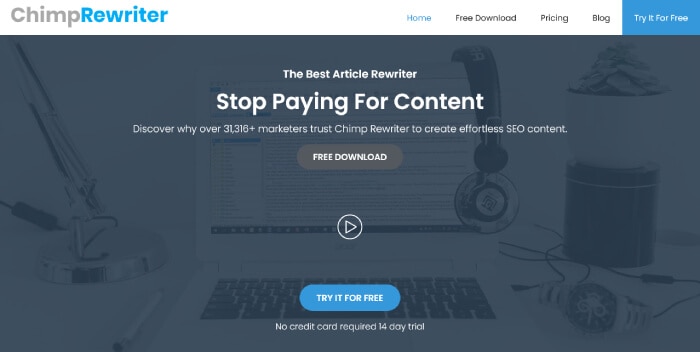 Chimp Rewriter is one of the first writing tools to rewrite content using Artificial Intelligence (AI) and Natural Language Processing (NLP).
Developed in the year 2009 by Aktura Technology, this writing tool allows users to rewrite texts, sentences, and words in different languages.
Features of Chimp Rewriter
The Chimp rewriter provides users with high-quality, error-free content.
It is very user-friendly and connects easily with other SEO tools and content generation applications.
It is compatible with 12 different languages, making it even more popular among users.
It also allows users to embed audio-visual content to enhance the quality of their work.
It efficiently detects spelling mistakes, grammar, and syntax and is a handy tool for SEO-optimized content writing.
Pricing
Chimp Rewriter offers 2 types of pricing packages and a free trial.
Chimp Rewriter provides an impressive 14-day free trial.
The monthly package of this tool is available for $15 per month. It provides its users with 1500 API requisitions every month. It also allows opt-out at any time and free software updates. Additionally, the tool can be used on two computers.
The yearly package is available for $99 per annum. This package has all the same features as the monthly package.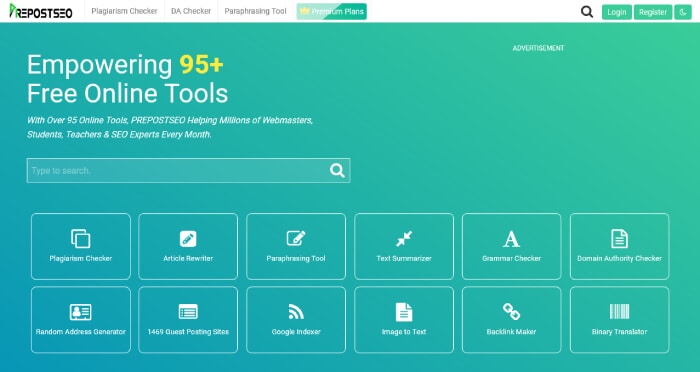 Pre-Post SEO is an efficient writing tool that not only rewrites your content but also allows users to check for plagiarism and domain authority.
Developed by Ahmad Sattar in 2014, the tool lets users paraphrase their content without any character limit.
Features of Pre-Post SEO
Pre-Post SEO helps you create high-quality backlinks to your content, which can improve your search engine rankings.
It checks your content for plagiarism, so you can be sure that your content is original and not copied from another source.
This tool helps you rewrite your content to be more distinctive and interesting to readers.
This tool allows you to convert images into text, so you can add images to your content without worrying about copyright infringement.
It helps you index your content on Google so readers can find it more easily.
Pricing
Pre-Post SEO offers 3 types of pricing packages and a free version.
Users can use Pre-Post SEO for free. However, they will not have access to all of its features. For example, the free version has a word limit of 1000 words.
This company package is available for $45 per month or $350 per year. It provides a word limit of 25,000 words and 75,000 search queries. Moreover, it provides captcha-free, unlimited users and an API-backed plagiarism checker.
This package is available for $20 per month and $150 per year. It consists of similar features as the company package. However, it has a word limit of $15,000 words and 200,000 search queries.
Lastly, the basic package is available for $10 per month and $50 per year. It also has the same features as the business and regular packages, plus a 5000-word limit and 5,000 search queries.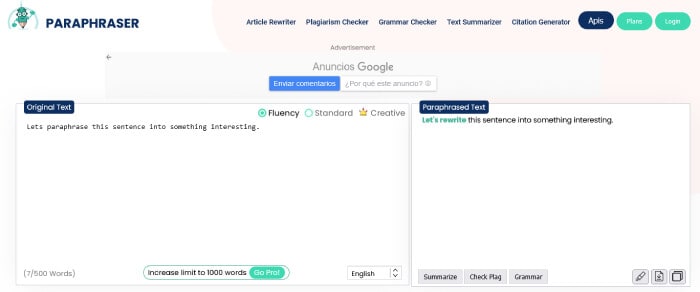 Paraphraser.io is a highly rated AI-driven paraphrasing tool that helps you paraphrase your content in 3 different styles – Fluency, Standard, and Creative.
Developed over 5 years ago, this writing tool can rephrase your content in 12 different languages, including English.
Features of Paraphraser. io
It has a top-notch AI algorithm that produces high-quality natural content.
It paraphrases, rewrites, eliminates plagiarism and rewords articles.
It is integrated with different SEO applications, so the content produced is SEO optimized.
It supports all types of browsers, such as Chrome, Opera, Firefox, and Edge.
The advanced algorithm creates web-based content spinning and enhances the legibility of the content and its proficiency.
Pricing
This tool offers a forever-free plan. However, while using this tool, users are confronted with multiple advertisements.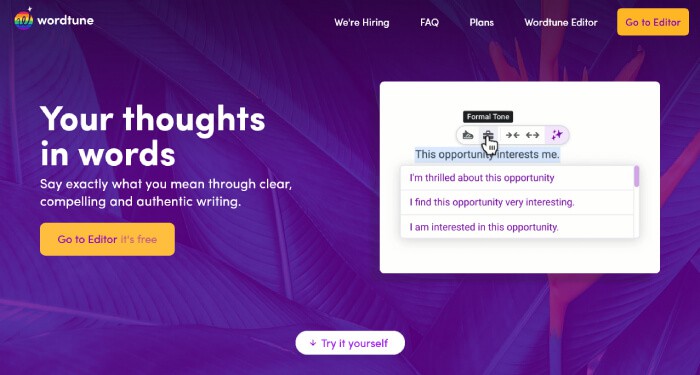 Wordtune is an incredible alternative to QuillBot as it offers you a degree of choice to enhance your writing and diversify your tone.
Developed by the AI21 Labs team in 2018, this tool allows you to paraphrase your articles and shorten paragraphs and sentences.
Features of Wordtune
Wordtune allows you to paraphrase, summarize, and flawlessly enlarge your content.
It also corrects your spelling and grammatical errors.
This tool also offers an extension for Google Chrome.
Moreover, its translation tool allows you to convert foreign-language content to English and paraphrase it.
This tool also rephrases your content in various tones, i.e., casual and formal.
Pricing
Wordtune offers a single pricing package and a free package.
This package allows you to paraphrase your writing and utilize all of Wordtune's various features for free. However, it restricts users to a set number of words every day.
This package is available for $9.99 per month. This subscription allows you to access all of Wordtune's features while also providing premium assistance to users.
The Best QuillBot Alternatives Comparision Table
Alternatives
Type
Monthly Price
Yearly Price
Free Trial/Free Plan
QuillBot
Web-based
$9.95
$4.17/ month
Free Plan
Jasper AI
Downloadable
$29
$59
5 Day Free Plan
WordAi
Web-based
$57
$27/ month
3-Day Free Trial
Grammarly
Downloadable
$12
$12.50/month
Free Plan
Spinbot
Web-based
$10
$75
Free Plan
Clever Spinner
Web-based
$9.90
–
3-Day Free Trial
Spin Rewriter
Web-based
$47
$77($497 for Lifetime)
5-Day Free Trial
Chimp Rewriter
Downloadable
$15
$99
Free Trial
Pre Post SEO
Web-based
$10 for basic
$45 for company
$150 for standard
$50 for basic
$350 for company
$150 for standard
Free Plan
Paraphraser.io
Web-based
–
–
Free Plan
Wordtune
Web-based
$9.99
–
Free Plan
Final Words
It's no secret that QuillBot has become a popular online tool for content writers.
The artificial intelligence and machine learning capabilities of QuillBot help speed up the writing process, but there are times when users want to try different tools.
In this article, we've highlighted the 10 best QuillBot alternatives that can help you write high-quality content quickly and easily.
Which of these QuillBot alternatives do you want to try? What problem should a writing tool solve? The comment section is for you.
Plus, if you are looking for an AI writing tool, you can also check our list of Best Speedwrite Alternatives.