Speedwrite is a popular AI-powered rewrite tool that lets you stay productive when covering different tasks, such as repurposing content for link building.
However, it does come with its own drawbacks, including its inability to keep facts intact while generating text or changing the meaning completely.
That's why, in this article, we will shift our focus to the best Speedwrite alternatives.
Let's get started.
An Overview of Speedwrite
Speedwrite is a powerful writing tool that uses cutting-edge AI to rewrite content instantly.
It is one of the finest writing tools for people who wish to generate error-free, high-quality content while saving time.
The tool claims itself as an automatic text generator that lets you generate multiple error-free copies of your content. This simple ability to create multiple copies gives you the ability to use your content for different purposes, including link building.
Moreover, it is equipped with an in-house content generator that can randomly select a word from any dictionary and add it to your sentence instead of any other term.
Features of Speedwrite
It is a very easy-to-use tool. All you need to do is copy and paste your reference material, and the program will transform the copied information into original, plagiarism-free work.
It provides multiple predictions for each word so that you can choose the best one—giving you creative freedom.
All your content is stored securely as this tool is designed with security in mind.
Why Do People Seek Speedwrite Alternatives?
Even though Speedwrite is considered a good paraphrasing tool, it has some weaknesses.
Speedwrite doesn't come with a free plan. So, if you want to try it, you need to get one of its plans.
It offers high accuracy when rewriting content, but is not 100% accurate. In some instances, it cannot preserve facts from your original text or simply change its original intended meaning.
It does not allow you to start an article from scratch, as you must provide a written copy for reference.
It has no templates or options to set any particular tone of writing.
It does not have extensions for Google Chrome.
Things to Consider When Seeking Speedwrite Alternatives
You are now set to seek the best Speedwrite alternative. However, you need to keep a few things in your mind:
First, you need to consider the cost. Speedwrite is a great tool, but it's not free. If you're on a budget, you should look for an alternative that is either free or priced within your budget.
Second, you'll want to consider the features that are important to you. What kinds of things do you need to rewrite content effectively? Make sure that the alternative you choose has all the features you need.
Third, you'll want to consider ease of use.
And finally, you'll want to consider customer support. The best Speedwrite alternative will have excellent customer support so that if you have any questions, you can get help right away.
The 11 Best Speedwrite Alternatives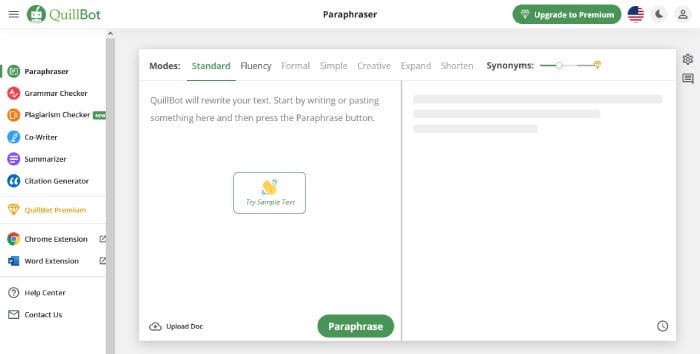 QuillBot is one of the most popular writing tools. It lets you paraphrase your sentences, fix grammar errors, and choose between a variety of synonym ideas. On top of that, Quillbot also comes with a free plan, but with limitations.
This tool also offers a wide range of features, including a text summarizer, a grammar checker, and a citation generator.
Likewise, its AI allows users to create error-free, high-quality content in no time.
Features
It makes your content more natural and captivating by utilizing superior AI.
It offers a wide range of vocabulary suggestions so that users can replace common words with various, more suitable terms.
QuillBot's AI-supported thesaurus finds appropriate synonyms for content.
This tool also provides a Microsoft Word and Google Chrome extension.
Here, you can choose between 2 modes of paraphrasing, i.e., standard mode and fluency mode.
Also, you can choose to freeze the words that you don't want to change.
If you go for the premium version, you also get a plagiarism tool and the ability to do advanced grammar rewrites.
Pricing Plans
Free Plan
Monthly Plan: $ 9.95
Annual Plan: $4.17 per month
Limitations
Free plan limits 125 words for paraphrasing and 1200 words for a summary.
The free plan only offers access to 2 modes, i.e., fluency and standard mode.
If you are looking for alternatives to QuillBot. Check out this ultimate list: 10 Best QuillBot Alternatives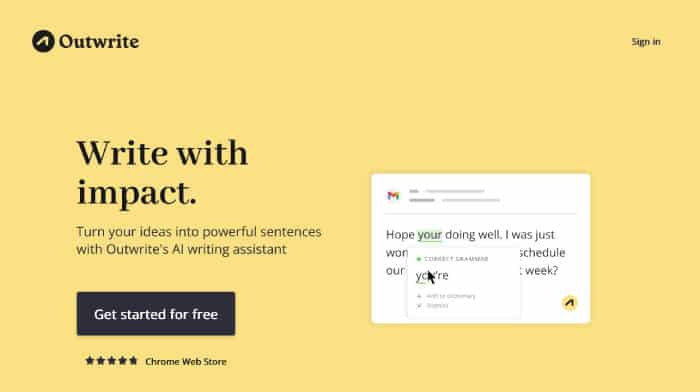 Outwrite is a great paraphrasing tool that accurately generates content while ensuring proper spelling and grammar. Thanks to their browser extension, you can rewrite your content directly in your browser.
Additionally, it also offers a combination of passive voice and punctuation suggestions, making it an overall versatile writing tool.
OutWrite doesn't unnecessarily add unnecessary work like other paraphrasing tools, resulting in a high-quality end result. You should choose OutWrite if you want to rephrase smaller sentences and make them easy to read.
Features
Outwrite provides extensions for Google Chrome and Edge.
It supports different languages, including English, Spanish, and French.
With Outwrite, you can improve your writing as it suggests better ways to express your ideas, improves grammar and style, and provides feedback on your overall writing.
It optimizes your text for clarity, conciseness, and readability.
You can also configure rewriting to target a specific audience or purpose.
You can change the passive voice to an active voice.
Pricing Plans
Free Plan
Pro Plan: $24.95 per month
Teams Plan: $ 14.95 per month
Limitations
The free plan offers only grammar and spelling checks.
Cannot try the free plan without signing in.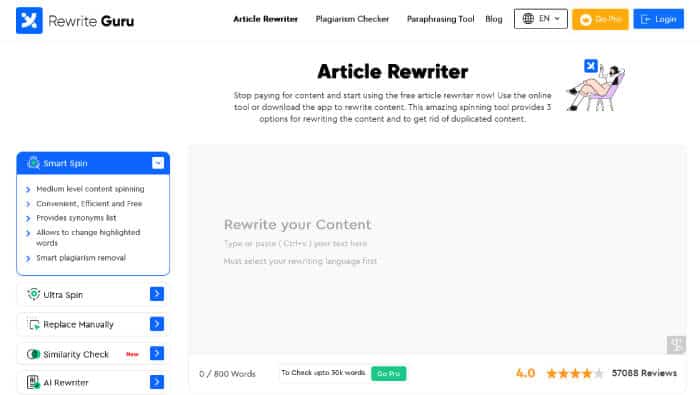 Rewrite Guru is one of the best online tools for rewriting content. It offers a great way to paraphrase any text and make it unique. Here, you also get an in-house content generator that offers an easy and quick way to rewrite the text.
Here, you also get a user-friendly interface with a number of tools and functionalities that assist content writers in quickly and effectively rewriting error-free text to boost SEO.
Rewrite Guru suggests multiple spin methods—
Smart Spin for moderate spinning.
Ultra Spin for extreme spinning
Manual Spin for manual spinning, i.e., it does not rephrase your content but highlights possible replacements.
Features of Rewrite Guru
Rewrite Guru has various small tools and features to help writers rewrite content efficiently and accurately.
It has a plagiarism checker that allows content writers to avoid plagiarism.
Rewrite Guru's thesaurus supports content writers by letting them choose multiple synonym options as per their needs.
You also get access to a dictionary.
This tool is available in various languages, i.e., English, Russian, French, Italian, Spanish, and many more.
Unlike many tools, it also detects and compares similar-meaning words to avoid repetitiveness.
Pricing Plans
Free Plan
Monthly Plan: $9.99
Quarterly Plan: $25.99
Annual Plan: $99.99
Limitations
Its premium version also has word limitations of 5000 for grammar checks and 2000 for plagiarism checks.
You can only rewrite about 1500 words at a time.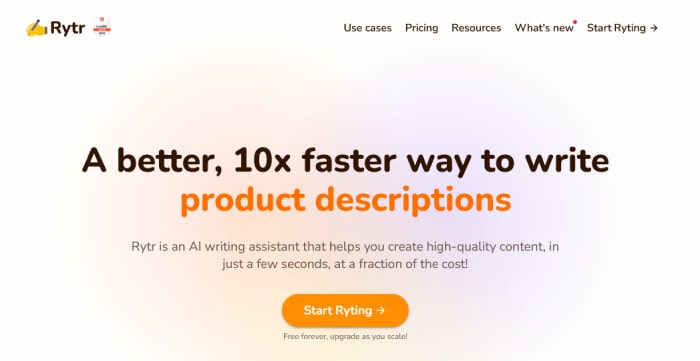 Rytr is an AI-powered writing tool that is used to generate content for your blog, emails, or any other content of your choice. Additionally, Rytr offers a forever-free account option with limitations. You can try out its free version before opting for its subscription.
Rytr allows you to produce original content without using any pre-existing material. Instead, Rytr uses artificial intelligence to create everything from scratch, with over 25 languages supported.
Features
Rytr's SEO analyzer tool enables you to find the best keywords instantly.
It integrates with a Chrome extension that lets users use the tool across several platforms, including social networks.
Its powerful AI creates error-free and engaging content.
Rytr also provides paraphrases, summaries, and polishing of your content with just one click.
It eases your strain of managing multiple tasks by providing reliable communication, time-based billing, and robust project management options.
Pricing Plan
Free Plan
Monthly Plan: $9 for limited characters and $29 for unlimited characters.
Yearly Plan: $90 for limited characters and $290 for unlimited characters.
Limitations
The free plan limits users to only about 1000 words (5000 characters).
Rytr only offers a single tone of voice.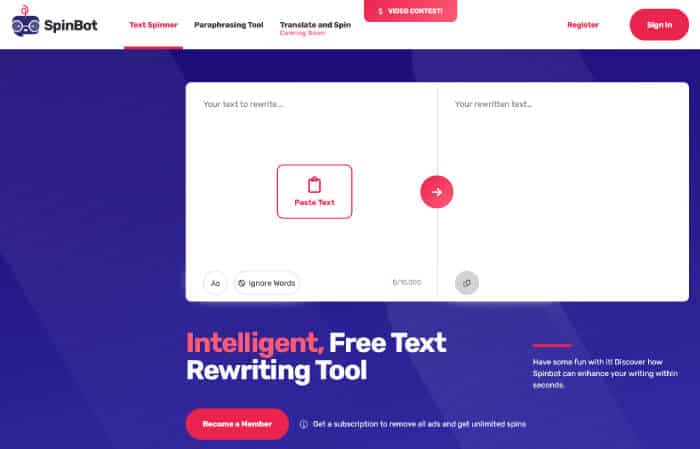 SpinBot is an excellent article rewriter and spinner tool that allows you to paraphrase large volumes of content quickly and easily without any prior experience. It actively uses alternative phrases and synonyms to rewrite your content.
With SpinBot, you can spin articles, create new versions of existing pieces, and even create recent articles from scratch. However, it does have its drawbacks, such as generating repetitive text or creating content that sounds unnatural. So, the best approach is to proofread your text before using it.
Features
It allows you to paraphrase a large volume of content—almost 1,400–2,000 words, i.e., 10,000 characters at once.
Users can spin the headline text to see which keywords draw the most traffic.
It allows you to choose between shorter and longer versions of paraphrased sentences.
Its API offers a proofreading tool that can rapidly proofread and improve the level of your content.
SpinBot lets users utilize the platform without having to register or sign up.
Pricing Plan
Free Plan
1 Monthly Plan: $10
6 Months Plan: $50
12 Months Plan: $75
Limitations
It limits users to 1,000 words per spin.
Both the premium and free versions offer a rewriting feature only.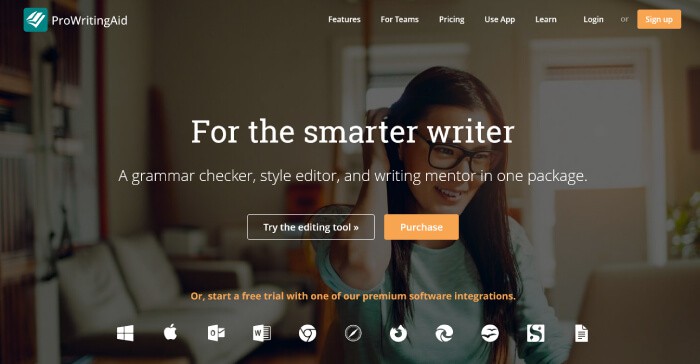 If you are looking for a writing tool that can do a lot more than paraphrasing, then you should check out ProWritingAid. It is a well-liked writing assistant and grammar checker. This robust online platform offers grammar and style checking, in-depth analysis of your content, and more to help you produce high-quality content.
Here, you do not get any paraphrasing tools. However, ProWritingAid acts as your writing mentor as it strengthens your content by polishing your writing structure and providing meaningful suggestions. Additionally, it allows users to check their content's readability grade and emotion.
Features
ProWritingAid corrects your grammar errors, punctuation errors, and editing styles.
It analyzes your content in-depth to strengthen and improve it overall.
The tool focuses on automated copywriting.
It comes with the Chrome extension.
It also tracks the users' progress with just one click.
Pricing Plans
Free Plan
Monthly Plan: $20
Yearly Plan: $79
Lifetime Plan: $399
Limitations
It limits users to 500 words at a time.
Its features could overwhelm some users.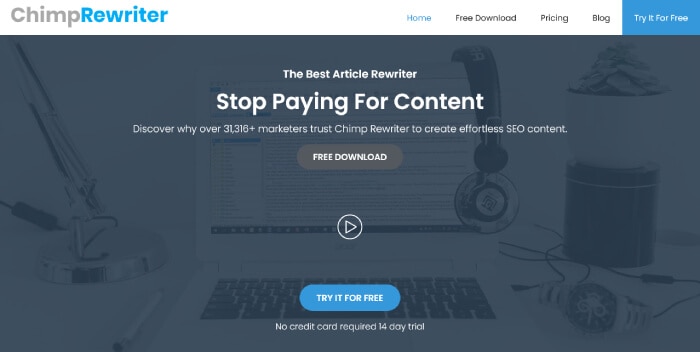 Chimp Rewriter is one of the most potent rewriter solutions that utilize AI and NLP to review and paraphrase your content. You can also fix grammar errors during the rewriting process. Moreover, you can also restructure and merge two sentences with it.
Features
The Chimp Rewriter allows users to create their own thesaurus by adding or removing synonyms of their choice.
It supports 12 different languages, including Spanish, Italian, and German.
The Chimp Rewriter API can be used in collaboration with other content production software, blog network administrators, and similar programs.
It is a handy tool for creating SEO-friendly content since it quickly catches spelling, punctuation, and syntax errors.
You can also incorporate audio and video assets to enhance the quality of your content.
Pricing Plan
Free: 14-day free trial
Monthly Plan: $15
Yearly Plan: $99
Limitations
Chimp Rewriter doesn't come with a web version, i.e., the software must be downloaded to use.
It can be used on only 2 devices at any given time.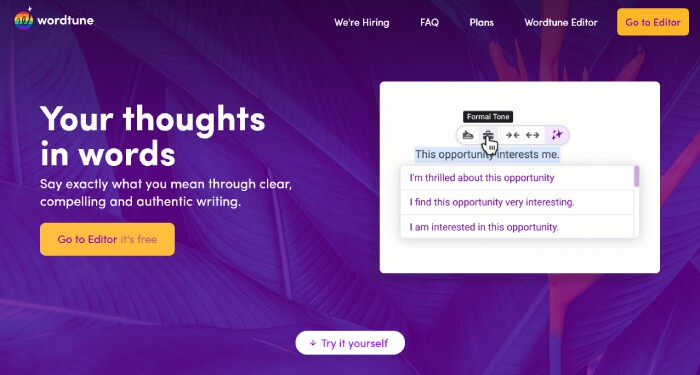 Wordtune is a writing tool that uses advanced AI tools and language models to write your content. With Wordtune's AI, it first understands the content's context and then rewrites it accordingly, with the aim of improving content readability. Here, you can choose to rewrite your material in several tones, such as informal and professional.
Features
It comes with a Google Chrome extension. This means you can rewrite content on the fly while using Twitter, Facebook, Slack, Gmail, and many more.
Wordtune enables users to rewrite, summarize, and extend their content seamlessly.
You also get a translation feature that enables you to translate foreign language information into English.
It also functions as a style editor tool, an autocorrecting tool, and a sentence format improver.
Lastly, the tool also detects plagiarism and helps the user improve the tone of their writing.
Pricing Plans
Free Plan
Premium Plan: $9.99
Limitations
The free plan allows paraphrasing only 20 sentences per day.
Summarize and expand features are only available on the premium plan.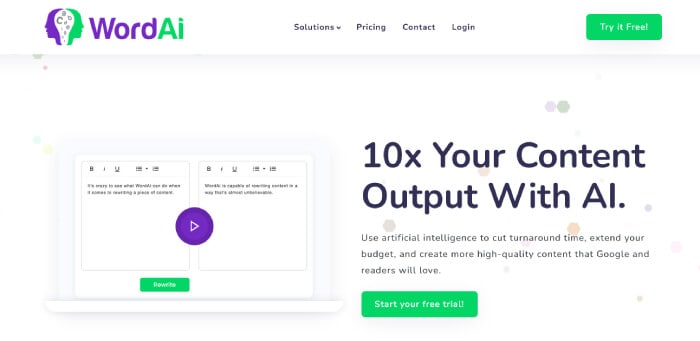 WordAI is a great tool to help you rewrite large-volume content instantly. It is capable of rewriting any article or text into an entirely new piece without your interference.
Also, WordAI makes sure that the unique generated content will pass Copyscape and Google plagiarism tests.
Just like other AI-powered paraphrasing tools, it first utilizes machine learning to understand each sentence's meaning and then rewrites it to ensure content uniqueness.
Features
Word AI lets users choose how much they want WordAI to change the rewritten text from the original.
It uses machine learning to produce high-quality content that sounds natural, and in most cases, it is indistinguishable from human-written content.
WordAI also allows multiple spins and rephrasing of the same content.
Here, you can also adjust how creative or SEO-friendly your material is.
Pricing Plan
Free: 3-day free trial
Monthly Plan: $57
Yearly Plan: $27/ month
Enterprise Plan: custom pricing
Limitations
It has a monthly word count limit of 250,000 and if the user's word count exceeds, they need to pay $2 for every extra 10,000 words.
It doesn't come with any browser extensions.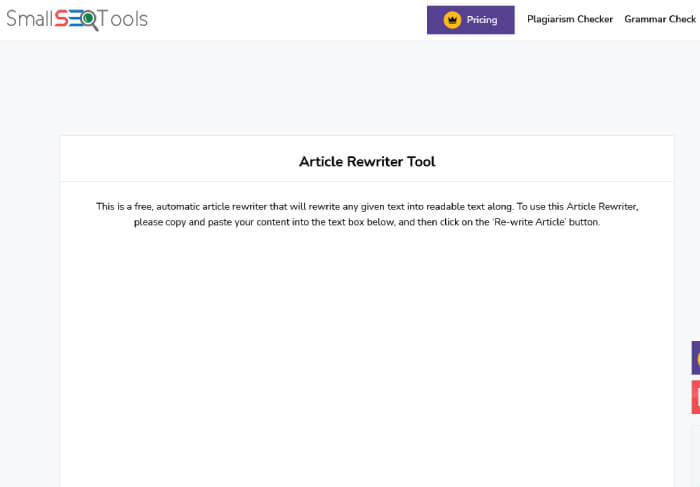 Small SEO Tools is a reliable, cloud-based SEO tool that has multiple features to manage your content and, most likely, your business. This is a fantastic, easy-to-use tool for content management.
It is a complete writing tool package that offers a wide range of features which range from content rewriter, article rewriter, and plagiarism checker to text to image converter.
Features
Small SEO Tools paraphrase your content and correct grammatical and spelling errors.
It analyzes the page speed and SEO score of a given webpage.
It converts text to image, image to text, and a JPG file to a word file.
Small SEO Tools are fast and reliable, so you can trust that they will help you improve your SEO quickly and effectively.
Pricing Plans
Free Plan
Basic Plan: $9.80 – $59.80
Classic Plan: $24.80 – $79.80
Enterprise Plan: $29.80 – $149.80
Institute Plan: $149.8-$599.80
Limitations
It has a limited database.
The Small SEO Tools site displays a large number of ads.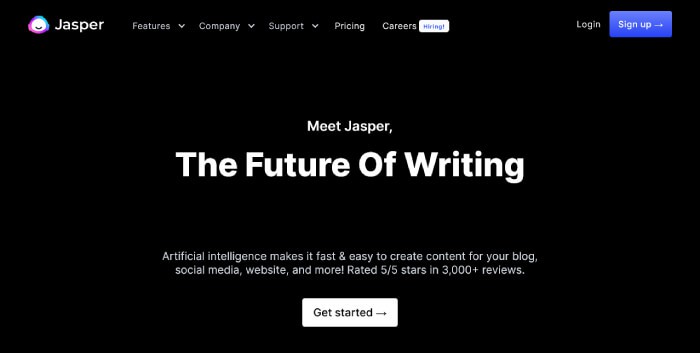 Jasper is a powerful artificial intelligence platform that enables you to quickly and easily create content for your different content marketing efforts, including social media, websites, blogs, and so on!
Under the hood, Jasper comes with a wide range of pre-built AI models that let you write original content capable of ranking or writing ads for better conversions.
Features
Jasper features a natural language processing algorithm that helps you improve your content's readability and quality.
It also offers a plagiarism checker to ensure your content is unique and original.
It supports 25 different languages.
Jasper's AI lets users develop unique, error-free, and creative SEO content.
The tool provides an advanced security model that can be adjusted to your company's specific requirements.
Pricing Plans
Free: 5-day free trial
Starter Plan: $29
Boss Mode Plan: $59
Limitations
Its free trial limits users to 10,000 words only.
The information it provides is not fact-checked.
Comparison Table
| Alternatives | Type | Starting Price | Free Trial/Free Plan | Limitations |
| --- | --- | --- | --- | --- |
| Speedwrite | Web-based | $24 | Free Trial | No paraphrase option. |
| QuillBot | Web-based | $9.95 | Free Plan | 125 words limit for the free plan. |
| Outwrite | Web-based | $24.95 | Free Plan | Needs sign for free plan too. |
| Rewrite Guru | Web-based | $9.99 | Free Trial | 1500 words at a time. |
| Rytr | Web-based | $9 | Free Plan | 1000 word limit for the free plan. |
| SpinBot | Web-based | $10 | Free Plan | 1000 words per spin. |
| ProWritingAid | Downloadable | $20 | Free Plan | 500 words per spin. |
| Chimp Rewriter | Downloadable | $15 | 14-Day Free Trial | Limited to 2 devices only. |
| Wordtune | Web-based | $9.99 | Free Plan | 20 sentences per day. |
| Word Ai | Web-based | $57 | 3-Day Free Trial | 250,000 words per month. |
| Small SEO Tools | Downloadable | $9.80 | Free Plan | Bulky ads. |
| Jasper. Ai | Downloadable | $29 | 5-Day Free Trial | 10,000 words limitation for free trial |
Final Words
Content is king, and you need tools to reach your goals. Paraphrasing and rewriting tools listed here will help you faster and be more productive. Moreover, each of these tools comes with additional features such as a grammar checker, plagiarism checker and more!
And for that, Speedwrite is a great tool, but it's not the only one out there.
So, if you're seeking a Speedwrite alternative, we strongly suggest QuillBot. QuillBot is a powerful writing tool that uses cutting-edge AI to rewrite content instantly. Plus, it offers a lifetime free plan so you can keep your hand moving and writing without stopping to think.