Paraphrasing can also help you in write-ups when you get inspired by someone else's writing. It enables you to give the same idea or vision a new voice – be it in academic writing, business writing, or freelance writing; paraphrasing tools can come in very handy. It refers to restating the form of someone else's ideas or thoughts in your own words; however, you should always cite the source of rephrased information.
Paraphrasing tools lets you find the best synonyms for your content without the need to manually go line by line and change content. Moreover, it helps in remove plagiarism from content as well as help in learning new words.
What is a Paraphrasing Tool?
A paraphrasing tool is required to rephrase a sentence without changing its meaning. You can achieve it by using alternative words, sentences, or phrases. Sometimes you can paraphrase even a whole paragraph with slight variations.
The text is changed into similarly structured sentences, so they share the meaning. You can use paraphrasing tools for creating distinctive articles, writing blog posts, marketing content, or any other form of content. Moreover, these tools can help you if you are a slow typer. You can use paraphrasing tools to cut down complex information or text to clarify and simplify its meaning.
Paraphrasing tools maintain as well improve the quality of your content. Make sure to read and edit the paraphrased content. That's why it is not recommended for complete novice or someone who doesn't have required content writing skills. Sometimes these tools add synonyms that do not make sense in a particular sentence or context. Proofreading and editing your content is very important because no tool or software can beat the human eye.
10 Best Paraphrasing Tools (Free & Paid)
Whether you are creating content for a website, writing an academic paper, a business report, or an article, it is of utmost importance that your content is unique. You can look up different ideas on the internet for inspiration. However, you should avoid plagiarism at all costs, no matter what type of content you are writing.
If you have ever written content, you know it is not always easy to complete the word count and make content easy to read, clear, and to the point. Paraphrasing tools are of great help in these scenarios. They can provide a kick to your content and make it easy to read as well as on point.
A paraphrasing tool keeps you away from all the hassle it takes and still brings about unique full-scale content. Some of the best paraphrasing tools available for you are mentioned below.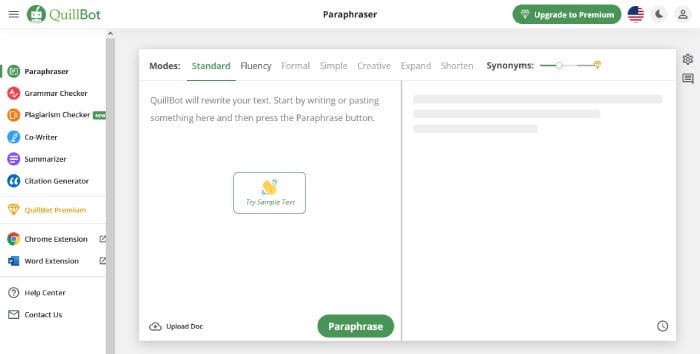 QuillBot is a writing tool that makes use of Artificial Intelligence (AI) to help you paraphrase by rewriting your content. You can either upload the file you need to paraphrase by dragging or copying the text and paste it on the software's interface. It was founded in the year 2017 by three students of Computer Sciences.
QuillBot offers various paraphrasing methods, including standard, creative, formal, short expand, etc. You can select the desired format and paraphrase the text. Along with paraphrasing, QuillBot also helps in checking the text's grammar and summarizing it.
You can use it for any type of content and can paraphrase up to 125 words at a time. To increase the word limit of paraphrasing, you have to subscribe to the premium plan they offer.
The free version of QuillBot has several limitations. This version offers 700 character limit, three writing modes, and two sentences processing at a single time. To get the best results from the tool, it is best to subscribe for the premium version.
QuillBot's premium version offers three plans for its users. A Monthly plan costing $4.95 per month, semi-annual plan costing $24.96 for six months and yearly plan for $39.95.
If you are looking for alternatives to QuillBot. Check out this ultimate list: 10 Best QuillBot Alternatives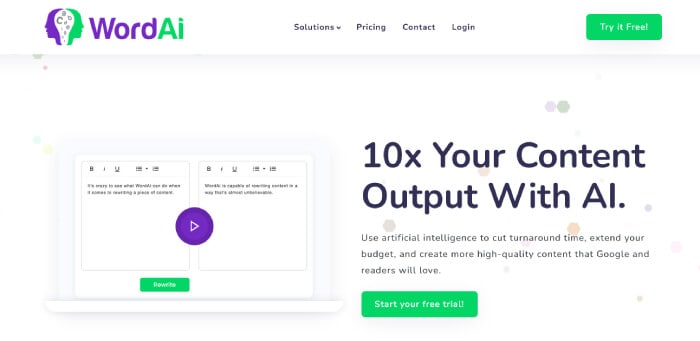 WordAi helps to generate high-quality Google-friendly content. It is a cloud-based paid tool that uses Natural Language Processing. Moreover, WordAi uses Natural Language Processing and Artificial Intelligence to minimise the turnaround time while producing high-quality content for readers.
In WordAi, you have to upload an article, and the software will generate several variations of content. It will transform your article into numerous SEO-Optimized pieces that you can choose from. Obviously, you need to proofread and edit the article generated by WordAi to make it ready for use.
It generates content that is not easily distinguishable from content written by humans.
The main purpose of WordAi includes reconstruction of sentences, quality, sentence cut down, meaningful information, as well as clarity.
Over 1000 variations of texts are generated by the tool from which you can select the one you find the best fit.
It supports the bulk upload of documents.
It supports API for easy workflow integration and also supports HTML content.
WordAi offers two paid packages, a monthly package for $49 and a yearly package for $347. Moreover, WordAi also provides a free 3-day trial. WordAi also has a 30 days money back gaurantee policy incase you are not satisfied with the offerings of the tool.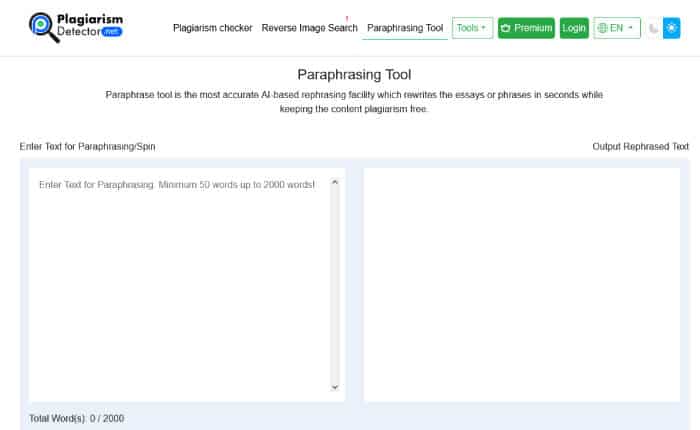 Plagiarism Detector is a great tool that helps you create 100 percent unique and authentic content. Plagiarism detector aims to provide quality content so its users can benefit from it.
Although this is a plagiarism detector, it also has the features of a grammar checker as well as a paraphrasing tool. These additional features make it convenient and easier to use Plagiarism Detector while using a single platform instead of three different ones for each task.
The paraphrasing tool of the Plagiarism Detector is free to use
The number of words to be paraphrased has to be a minimum of 50 while a maximum of 2000
Plagiarism Detector also offers a customized package that allows you to have packages curated according to your requirements
Plagiarism Detector offers three different premium packages for their users, the basic student package which costs $20 per month, the institute package which costs $50 per month and the enterprise package which costs $90 per month.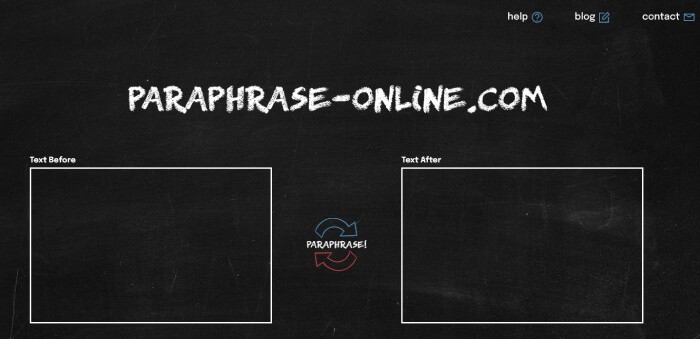 Paraphrase Online is a free online paraphrasing tool. The text is rephrased automatically with a reword generator built in this tool. It helps you correctly paraphrase your academic writing, business writing, articles, and other content types. It is a very handy tool that anyone can use.
Paraphrase Online is ideal for beginners because of its ease of use. The user-friendly interface allows you to work efficiently and fast.
The tool has a reword generator to rephrase the text and mold it into better content
Paraphrase Online ensures the appropriate references to eliminate copyright issues
You can rephrase each word and rewrite content for blog posts, documents, etc.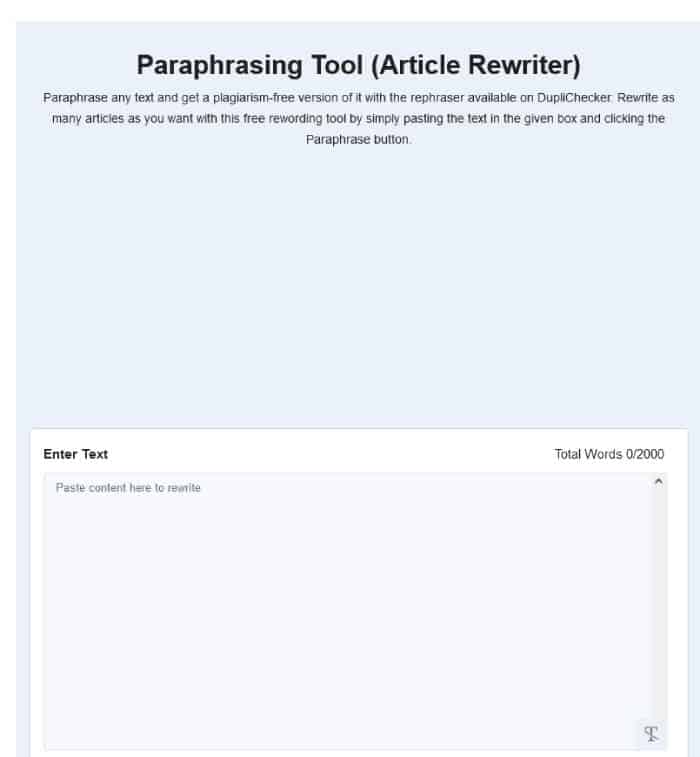 Duplichecker is a 3-in-1 package. It consists of a plagiarism checker, a spell checker, and a paraphrasing tool. It is a free tool used to carry out simple tasks such as spellcheck.
You can use it for up to 2000 words at a time for free. To use its services for more than 2000 words at a time, you have to purchase a plan. After paraphrasing your content, it highlights the changes that are made so you can easily track them.
It is quick at processing which saves up a lot of time and effort for the user
It has a vast library of synonyms that helps make your content unique
After rewriting the content, you can check the grammar to ensure correctness before using it
Duplichecker offers different packages ranging from $10 to $50 depending on the word count you require for paraphrasing.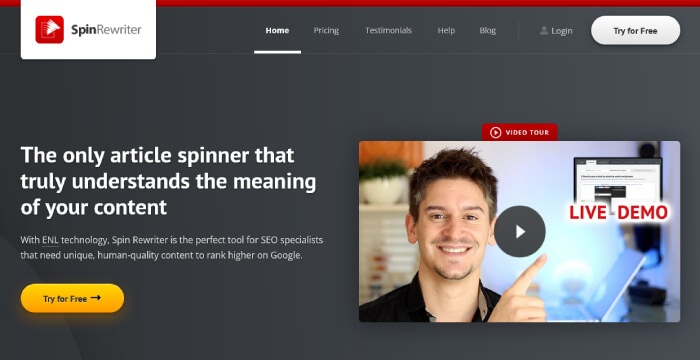 Spin Rewriter is an advanced AI-powered tool to paraphrase your data or content. It was founded back in 2011. This software helps you to change the complete structure of your sentence. It also enables you to generate high-quality content, making it easier to rank on Google.
It spins one article into numerous variations. All these variations are highly-optimized and can rank higher on Google than the original article. Spin Rewriter helps generate up to 1000 articles from your original article.
Spin Rewriter uses Artificial Intelligence to rewrite sentences and paragraphs.
It first understands the meaning of your content and then rewrites accordingly.
It is very easy to use Spin Rewriter and offers a five-day free trial.
Spin Rewriter has three different subscription packages, a monthly package for $47 and yearly package for $77. Moreover, you can also subscribe to Spin Rewirter for a lifetime in just $497.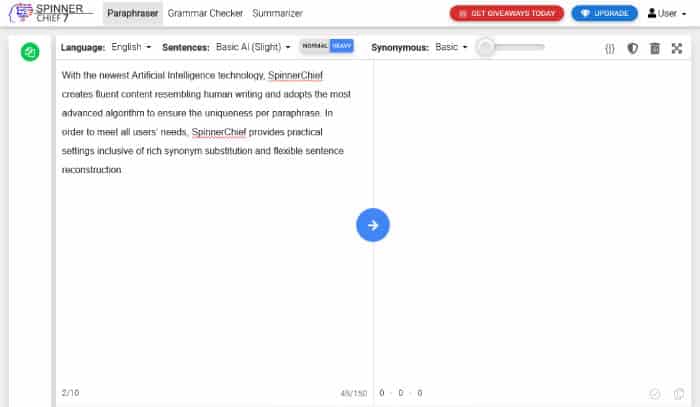 Spinner Chief is a powerful software that rephrases your text utilizing Artificial Intelligence technology and Natural Language Analysis. You can type or copy-paste the text on the online interface. You can also choose the spin intensity from – slight, normal, and heavy.
Along with paraphrasing, it also checks and highlights grammatical mistakes in the content. Spinner Chief allows you to paraphrase multiple articles simultaneously. Moreover, it also comes with thesaurus. The thesaurus used by Spinner Chief is cloud-based. New words are added daily as users generate content via this tool.
The free version of Spinner Chief allows 10,000 characters for paraphrasing at a time
Paid plans offer different features such as grammar correction, article scraper, paragraph, and sentence swapping, spinning articles, etc.
Spinner Chief provides three types of paid plans, and you can choose any package that suits your needs the best. The Elite Plan is for $88, the Ultimate Plan is for $138 while the Team plan is for $282. The amount is to be paid one time only.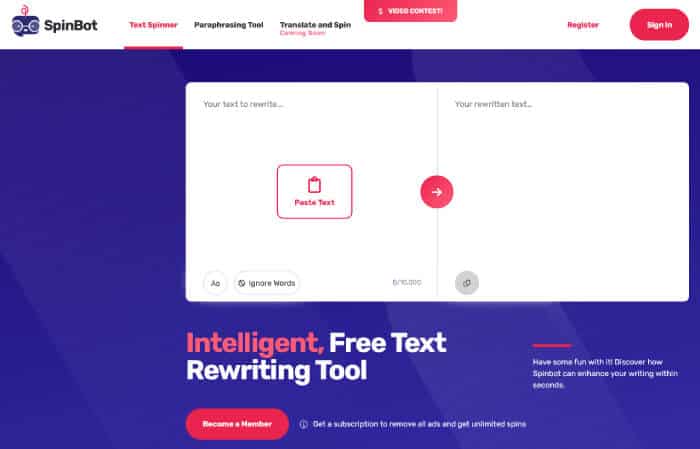 SpinBot is another top-rated paraphrasing tool. It does not offer any other feature and is solely a paraphrasing tool. SpinBot allows you to paraphrase up to 1000 words at a time for free.
SpinBot also paraphrases any phrasal content into textual content. This helps improves the readability of your content. It allows you to choose the length for paraphrased text so you can make it shorter or longer according to your choice.
It can paraphrase 10,000 characters at a time.
SpinBot does not allow uploading files directly, so you need to copy the text from its original source and paste it into the interface online.
The payment for a monthly plan is $10, $50 for a six months plan and $75 for a twelve months plan.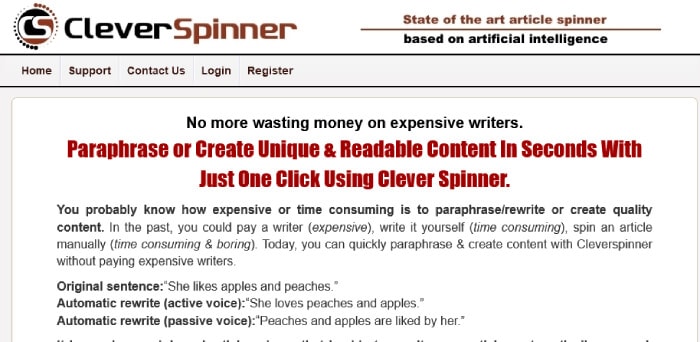 Creating content that is unique as well as entertaining to read can be a monumental task. Clever Spinner helps you paraphrase your content on a word or sentence basis. It uses Artificial Intelligence and understands the meaning of choosing the appropriate synonyms.
Clever Spinner offers a 3-day free trial, which gives you access to all the features. Unlike many other tools, it chooses the best synonyms possible by understanding the context of content as well as its meaning. So the output that you get is easily readable and understandable by readers.
Clever Spinner helps rewrites the content to make it exciting as well as to avoid plagiarism
It offers a free trial program for three days
The subscription packages that Clever Spinner offers costs $9.90 per month and $85 per year.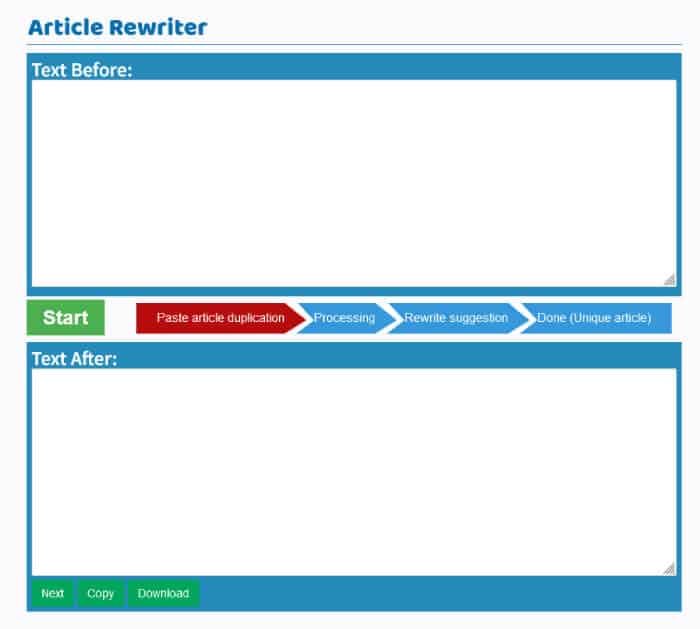 SEO Wagon is software, especially for bloggers and content writers. It helps to attain uniqueness in the content for the services and products that the writers or bloggers are offering. All it requires is to select the best online content available and upload it on SEO Wagon to rewrite it.
SEO Wagon is not just a paraphrasing tool; it is an amalgam of several other tools too. It does not add synonyms itself but instead offers a choice to its users. It allows the users to select the best possible synonym.
The article spinner has over 500,000 synonyms available and uses them to suggest you the best fitting ones.
The engine goes through your text and provides options to rewrite as per your preferences.
It is free-to-use software – but it does not allow you to rewrite the content more than once; if you do so, it will be considered spam.
How Do Paraphrasing Tools Work?
The paraphrasing tool takes up the source content and rephrases or rewrites it to eliminate the chances of plagiarism. The idea, as well as the meaning, remain unchanged. However, a few words from the source content are changed to express the message in a more straightforward and unique way.
Some of the paraphrasing tools use automatic dynamic text that requires special algorithms. These algorithms enable rewording, swapping words with suitable synonyms, and detecting difficult words. These tools convert the text, while the meaning remains unchanged, into accurate synonyms that are most suitable in the text. So you do not have to worry about anything; the software does everything for you!
Paraphrasing tools use-cases include:
While writing a large amount of content in a short span of time
To attract more audience to your website and avoid Google's sanction for plagiarized content
When working on SEM or SEO-related content
Uses of Paraphrasing Tools
Paraphrasing tools have proved to be very useful as well as convenient for content writers. By paraphrasing the existing content, you can understand the complex concepts and present the ideas in a different manner.
1. Make Clearer and Shorter Sentences
The utmost use or purpose of the paraphrasing tool is to rephrase to make content easily understandable. For example, you can paraphrase a 20-year-old article to make it easier for the current audience to read.
2. Help With Academic Purposes
A paraphrasing tool is of great help for students writing academic papers, dissertations, or essays. It enables them to rephrase the work from a credible source while maintaining its integrity. It helps you deliver from the original resources without having to copy from them.
3. Generating Reader-Friendly Content
Readers have a very little attention span. Hence you should present short, easily readable, and simple-to-understand material to them. By using paraphrasing tools, you can change a complex and lengthy sentence to a simple and unique one.
4. Arrange The Words Correctly
While paraphrasing, if the sentence structure does not feel right, run it through a paraphrasing tool to help you reconstruct your sentences. By doing such a thing, you can focus on the main idea of the content instead of using confusing sentences.
Conclusion
Writing always requires creativity as well as interest, but the paraphrasing tool has made it all relatively easier. These readily available tools help your content to stand out.
Different tools are ideal for different kinds of content, such as blog posts, college assignments, or sentence paraphrasing.
You should choose the paraphrasing tool that suits your work tasks the best. Once you are done paraphrasing your text, do not forget to check for plagiarism in your content using the plagiarism-checking tools available within the paraphrasing software.