Are you a life coach looking for ways to increase your reach and attract new clients? If so, consider creating a website to promote your services.
In 2020, about 40% of coaches began to provide their services exclusively online.  And with good reason: websites make it easier to reach your target audience, whether your clients are looking to improve their relationships, career, or health.
But creating a life coaching website can be a daunting task. You need to choose the right platform, design an attractive layout, and populate your site with compelling content.
Sounds tough, right?
Don't worry. We are here to help you with the right tools and instructions for creating a coaching website from scratch.
So, let the coaching begin.
Think of a Great Domain Name
First, you will need to choose a domain name for your website. It's like your website's address that people will use to find you online. A domain name also plays an important role in your website's Search Engine Optimization (SEO) and visibility. When choosing a domain name for your coaching business, make sure that it is:
Unique
Easy to remember
Not too long or hard-to-spell
Doesn't contain numbers and special characters
Once you have chosen your domain name, you will need to purchase it through your preferred domain registrar. We recommend Namecheap or GoDaddy, both of which offer competitive pricing and a simple user experience.
Choose a WordPress Hosting Service
A hosting server stores all your website's files and database, allowing users to access your site from all around the world. These factors are essential when choosing a web host:
Server Speed
Price
Ease of Use
Support Options
While there are plenty of options to choose from, these are the best hosting providers out there:
Bluehost: They are one of the largest hosting companies in the world and an officially recommended WordPress hosting provider. They offer a great deal for new customers, which includes a free domain name and a discounted price on WordPress hosting.
Kinsta:  If you're looking for a reliable, high-performance hosting that can handle high traffic spikes, consider Kinsta. They have built their reputation on providing fast loading times, next-level security, and top-notch support to all of their customers.
Cloudways:  They offer pay-as-you-go pricing and a wide range of features, making them a great choice for both WordPress beginners and experts alike.
Get your Business Email Address
A business email builds trust in your persona as a coach. With a professional business email, customers and potential clients can identify your business and contact you easily.
Instead of a generic Gmail or a Yahoo account, a professional business email address has your company's unique domain name. It has a name followed by your website's domain, like "[email protected]."
Most hosting companies allow you to have a business email with their hosting plans. If you hate going through a complicated setup procedure, you can also create your own custom and secure company email account in Google Workspace.
Build your Coaching Website using WordPress
Once you have chosen your hosting provider, the next step is to set up your WordPress website. This process is simple and only requires a few steps:
1. Go to your hosting provider's website and log in to your account.
2. Create a new database for your WordPress site and create an administrator user with full access rights over the database.
3. Download the WordPress installation files onto your computer, then upload them to your hosting server using FTP or cPanel file manager.
4. Run the WordPress installation script, which will guide you through the rest of the setup process.
Finally, choose a theme and customize it according to your brand identity. There are many great themes available for free or at a low cost. Some of the best themes available are: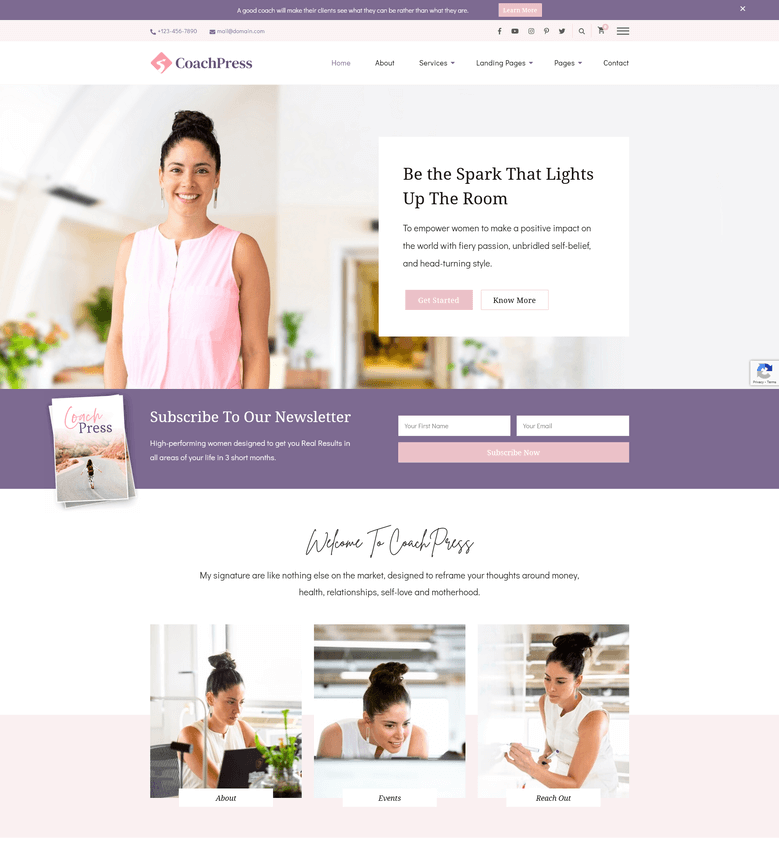 CoachPress is specifically designed for coaches, consultants, speakers, entrepreneurs and teachers, and comes packed with features that will make your website stand out from the crowd.
CoachPress is responsive and mobile-friendly, so your site will look great on any device. Optimized for speed and performance, CoachPress lets your visitors enjoy a smooth and fast browsing experience.
CoachPress includes an attractive slider with advanced control, strategically placed CTAs, newsletter signup forms, and appointment booking functionality. Additionally, you'll be able to easily import demo content with just one click and take advantage of pre-built templates for events, courses, freebies, ebooks, portfolios and services pages.
CoachPress is also super easy to customize, thanks to tons of customization options. You can change the typography, colors and layout of your site with ease and take advantage of social media integration to help spread the word about your business. Plus, it's easy to track your website's traffic and performance with built-in Google Analytics settings.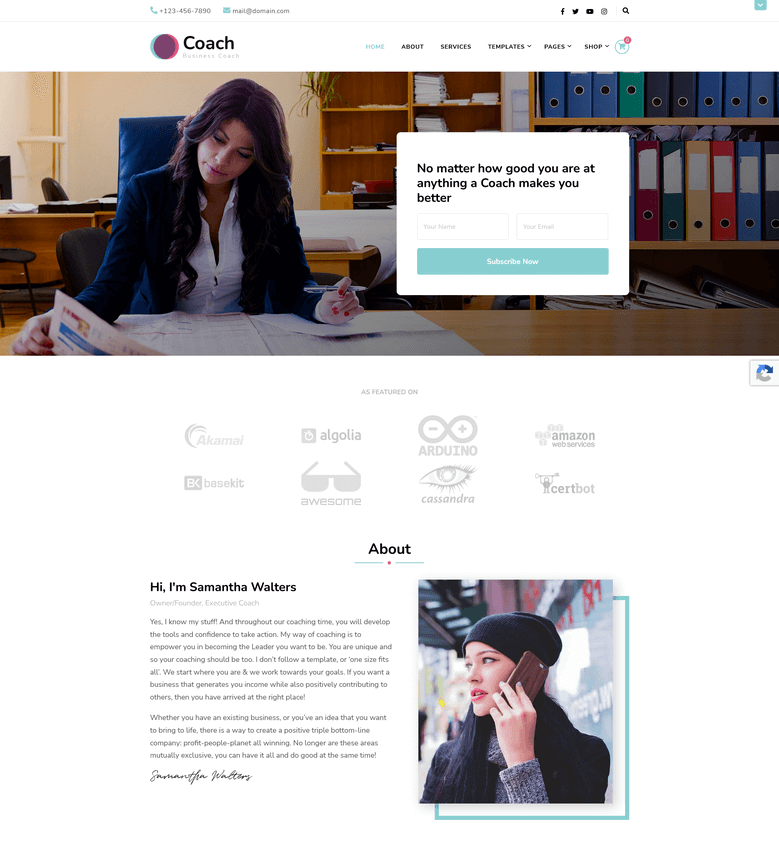 Blossom Coach Pro is a WordPress theme designed especially for health coaches, life coaches, mentors, therapists, and speakers. It is responsive/mobile-friendly, speed optimized, and SEO friendly.
You can integrate Learning Management Systems (LMS) like LearnDash and TutorLMS to sell courses online. It is also compatible with page builders like Elementor and Gutenberg. The theme comes with smooth and attractive sliders with advanced control. You can also use the notification bar to grab visitors' attention.
Blossom Coach Pro includes templates for the Event Page, Courses Page, Freebies Page, Ebook Page, Portfolio Page, and Service Page. It includes unlimited color options and advanced typography options.
Social media integration makes it easy for you to connect with your audience. Plus, it comes with built-in Google Analytics settings to help you track your website's performance.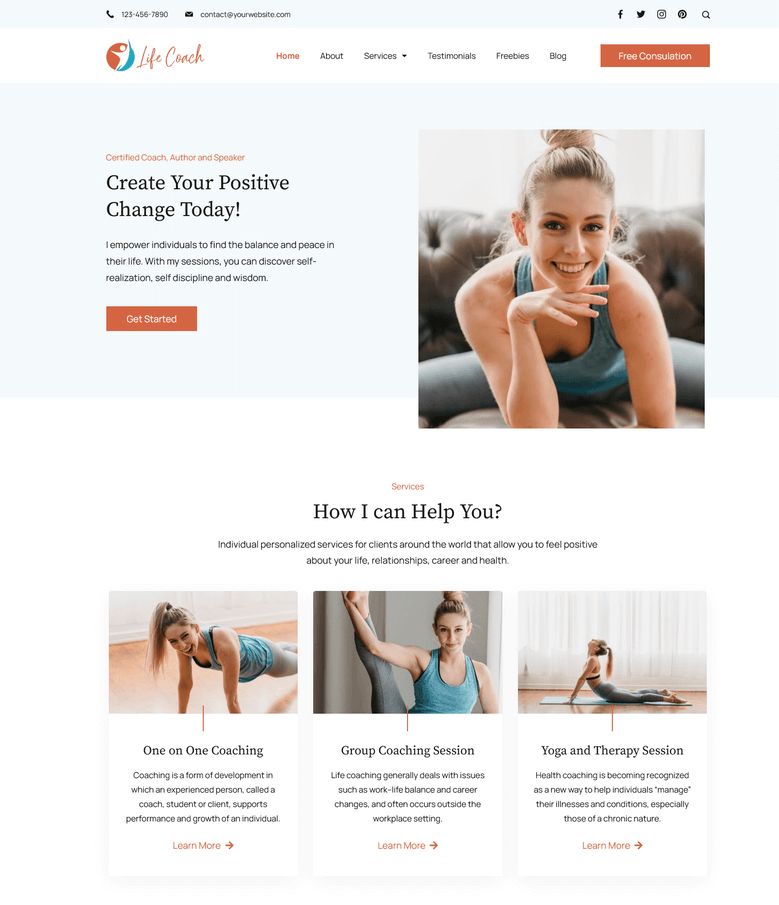 Rishi Theme is a core vital optimized WordPress Theme built for coaches, mentors, business consultants, and personal trainers. It features a responsive/mobile-friendly design with ready-made website templates.
You can also use Elementor, a powerful page builder tool, to personalize every aspect of your website and create your own website template. With tons of customization options and advanced typography options, you can create a website that perfectly represents your brand.
Rishi Theme is fully compatible with social media sharing. You can share your content to social media pages and news feeds to engage the viewers.
Rishi Theme works really well with powerful plugins like Contact Form 7 and Mailchimp to create CTA sections and collect the data.
You can start with Rishi Theme's starter templates especially built for coaching websites: Life Coach, Health Coach and Yoga Coach.
Cheers! You have now created a coaching website in WordPress. It's now time to spice things up with plugins.
Choose and Install WordPress Plugins
You can get most standard features for a coaching website in WordPress with little to no code, thanks to plugins. Plugins add features and functionality, allowing you to do more with your website. There are thousands of plugins available, so you will likely find just the right one that meets your needs.
Some popular plugins for coaching websites include: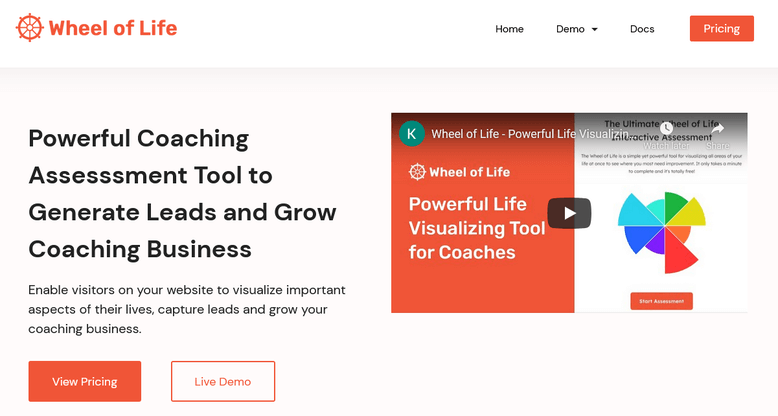 Wheel of life is an interactive assessment tool for coaches to generate leads from clients and know them better. The plugin helps you understand your coaching prospects during early consultation; it can be used as a talking point or goal-setting session with prospective customers.
Wheel of Life focuses on five major areas in life– purpose and values, social skills, cognitive factors, physical health and financial stability.
Wheel of Life's Call to Action feature can help you provide valuable feedback for clients on their progress. In addition, the tool is easy-to-use and customizable, with different colors or appearances that match your coaching website.
2. Yoast SEO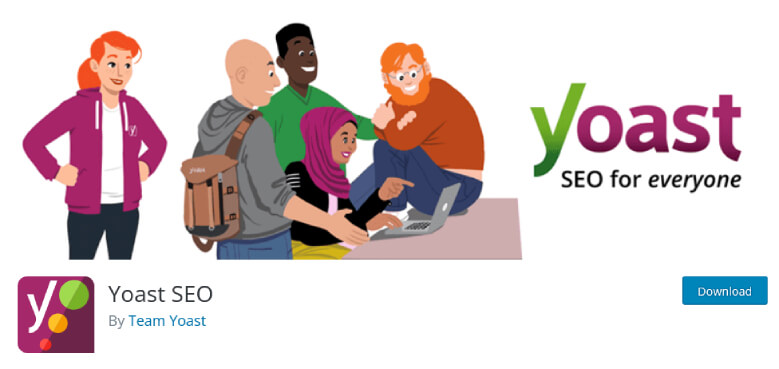 Yoast SEO is a popular WordPress plugin to optimize your website for search engines. It offers features like keyword optimization, XML sitemaps, title and meta descriptions, robots.txt file editor, .htaccess editor, and more.
Yoast SEO also allows you to control how your website appears in search results: you can set the title and meta description for each page.
3. WPForms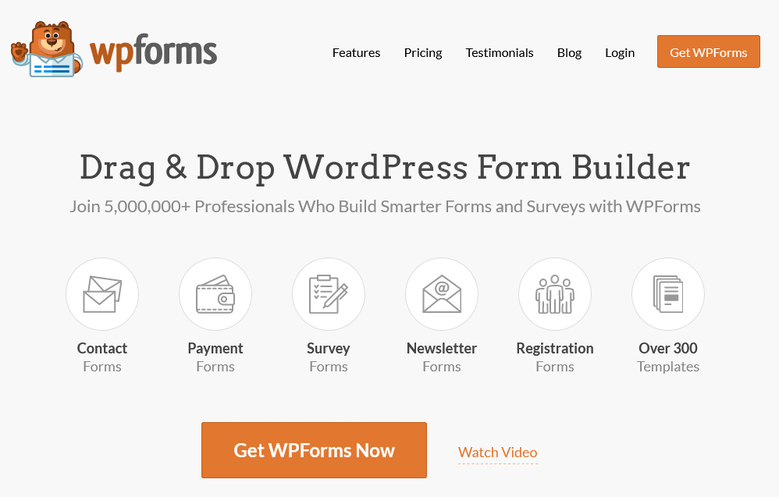 WPForms is a powerful plugin that allows you to easily create contact forms, polls, surveys, and other types of forms on your coaching website. 
With its drag-and-drop contact form builder, the WPForms plugin enables you to quickly and easily create any type of online form. The extensive template library includes more than 300 pre-built templates for all types of needs.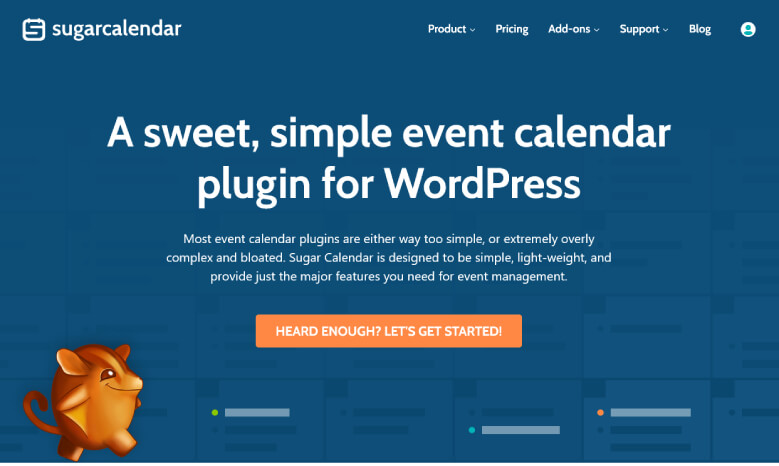 Sugar Calendar is a great plugin for managing appointments and schedules. It provides an easy-to-use interface for scheduling appointments and allows your clients to book appointments directly from your website. 
The plugin also integrates with Google Calendar, so you can keep track of your appointments on both your website and Google Calendar. Overall, if you're looking for an efficient and user-friendly scheduling solution for your coaching business, Sugar Calendar is a great option.
5. TutorLMS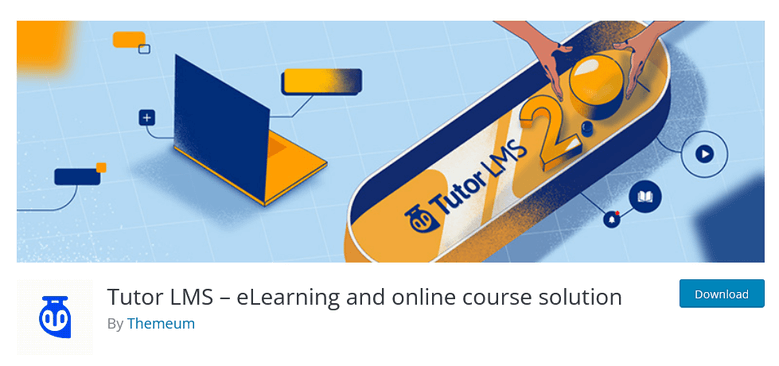 As a coach, you likely offer training courses or other educational resources to your clients. With TutorLMS, it's easy to create and sell online courses from your website so you can reach more students and grow your business.
The tutor LMS also makes it easy to manage students and instructors. You can even award custom certificates or test your learners with quizzes to ensure they're always on track in their learning.
These are just some of the essential plugins for creating a coaching website with WordPress. With the right tools, you can build an engaging site that helps you connect with your audience and grow your business.
If you're done installing the plugins, let's move on to the most essential pages on a coaching website.
Essential Pages in a Coaching Website
There's no limit to the number and kind of pages that you can create with WordPress. Nonetheless, there are standard pages that every coaching website should include. These are:
Homepage – The homepage is typically the first page that visitors see when they visit your website. It is important to make a good first impression, so be sure to include a brief description of your coaching business and some of your best work or testimonials from past clients.
About page – The about page is a great place to share your story and let visitors know what makes you unique as a coach. Be sure to include information about your experience, qualifications, and coaching style.
Services page – The services page is where you can share more information about the specific services that you offer. This typically includes the areas of focus for your coaching, pricing and payment plans, and any other relevant details.
Blog page – Blog posts keep visitors engaged with your website and provide helpful content that they can use in their own lives or businesses. Consider including a variety of content on your blogs, such as articles, videos, infographics, and more.
Contact page – The contact page is where visitors can get in touch with you if they are interested in booking a consultation or learning more about your coaching services. Be sure to include an email address, phone number, and other relevant contact details on this page.
With these pages setup, you can create a complete and professional coaching website that will help you connect with your ideal clients and grow your business.
Design Tips for a Coaching Website
For your coaching website's design, the trick is to keep it professional yet personal. Remember, your website is a reflection of you and your business. Therefore, choose a design that reflects your brand and appeals to your ideal clients.
Some tips for designing a successful coaching website include:
Quality Image and Graphics: Consider using high-quality images and graphics throughout your site, as these create visual interest and showcase the type of work that you do.
Pleasant Color Scheme: Use a color scheme that is in line with your brand image and easy on the eyes. Keep it professional, avoid contrasting color combinations and colors that are too bright.
Elegant Fonts: Use fonts that feel professional while being easy to read. Remember, your website should be easy to navigate, so choose fonts that will make it easy for visitors to find their way around your site.
Call-To-Action: Be sure to include a call to action on every page of your website. A call to action is a statement or button that encourages visitors to take a specific action, such as signing up for your newsletter or scheduling a consultation.
Mobile-Friendly: Make sure your website is mobile-friendly. With more and more people using mobile devices to access the internet, it is important to have a website that works well on all screen sizes.
By following these design tips, you can create a compelling coaching website that will help you reach your business goals.
Conclusion
You have come a long way! If you followed along, you have now created a fully functional coaching website on WordPress. You should be well on your way to gaining new clients and expanding your company.
Keep up the good work and provide quality services to your clients and followers. Thank you for reading! We hope this guide was helpful.
If you have any questions about anything we covered in this article, leave us a comment below, and we'll be happy to help you out.