Let's say you are working on a document to submit to your team for further improvements and editing. Over time and after the document gets updated by most of your team members, the final document will look way different than your original one. Now imagine the horror of comparing the two documents for the changes.
Are you facing the same problem of comparing two documents after the changes are made? This is a typically time-consuming and most tedious task faced by writers and programmers. Yes, we have experienced this nightmare ourselves and took on the task of solving it for every one of us.
We scoured the internet, tested most free and paid tools, and read reviews and forums. Finally, we came up with a list of 15 Best text comparison tools that are very helpful and minimize the task of comparing documents.
What is the Need For Text Comparison Tools?
Most of the documents used in offices and projects go through a long review and correction process. From the first draft to the final draft, the same document will change and evolve many times. Every change makes it hard to recognize and point out what is changed. This same issue raises the need for text comparison tools.
It is also important to track those changes to improve the writing process. For programmers and writers, the need to compare their documents is even more important. Text comparison tools become even more important if the final document is far larger than the original one. In this case, it is impossible to track all the changes correctly without missing something.
As we experienced the need for text comparison tools, we do not think anyone with experience will disagree. This is the core reason we embarked on our research journey to find the best text comparison tools to solve our and our readers' problems.
So, let's get ahead as we list the 15 best text comparison tools.
Best Text Comparison Tools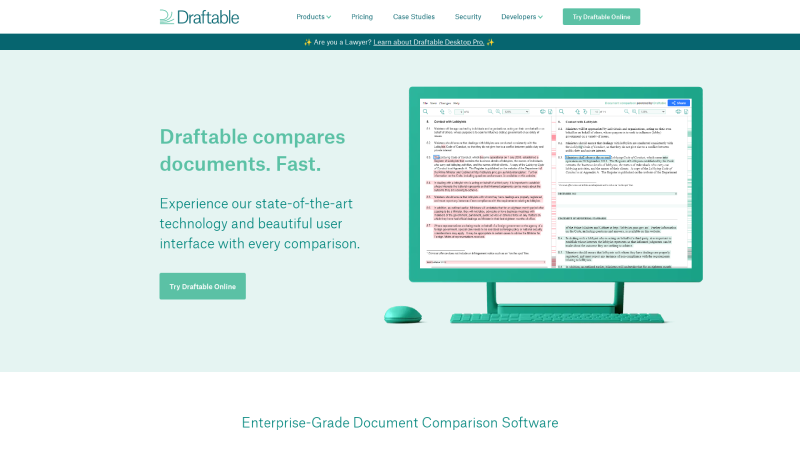 Draftable is a very elegant tool for text comparison. It does not sacrifice functionality for style. It is as pleasant-looking as it is functioning. Comparing two text documents with this tool will not only highlight the changes that were made but also describe them. It will accurately tell if the texts are added, removed, or replaced. You can be pretty confident in its ability to differentiate the two documents you are comparing.
Pros
Good User Interface.
Can compare different file formats such as .docx, PDF, .txt, etc.
Works online, and has an app.
Access to API.
Cons
Too bulky if you are looking for just text comparison.
Pricing
Draftable is a free online tool.
Paid Desktop App. [$129 Annually]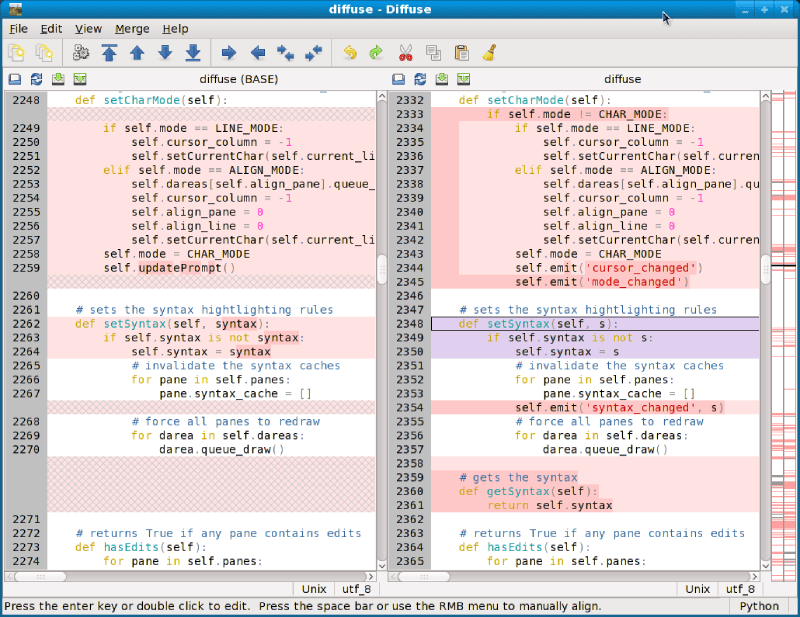 Diffuse is a very simple software-based text comparison tool. It uses a line-matching feature to compare the side of your document to the side. You can also edit the texts and merge different versions. In addition, there is an in-built version control that helps in revisions.
It is the most useful text comparison tool, especially for programmers, as it supports different repositories to track the versions. In addition, syntax highlighting and better navigation with keyboard shortcuts make it a superb choice. It is an Open Source project licensed under GPLv2(General Public License version 2.0).
Pros
Syntax highlighting.
Smooth navigation.
Side-by-side text comparison.
No learning or training is required.
Cons
Need to download it.
It cannot be customized.
Does not have a lot of functionality.
Pricing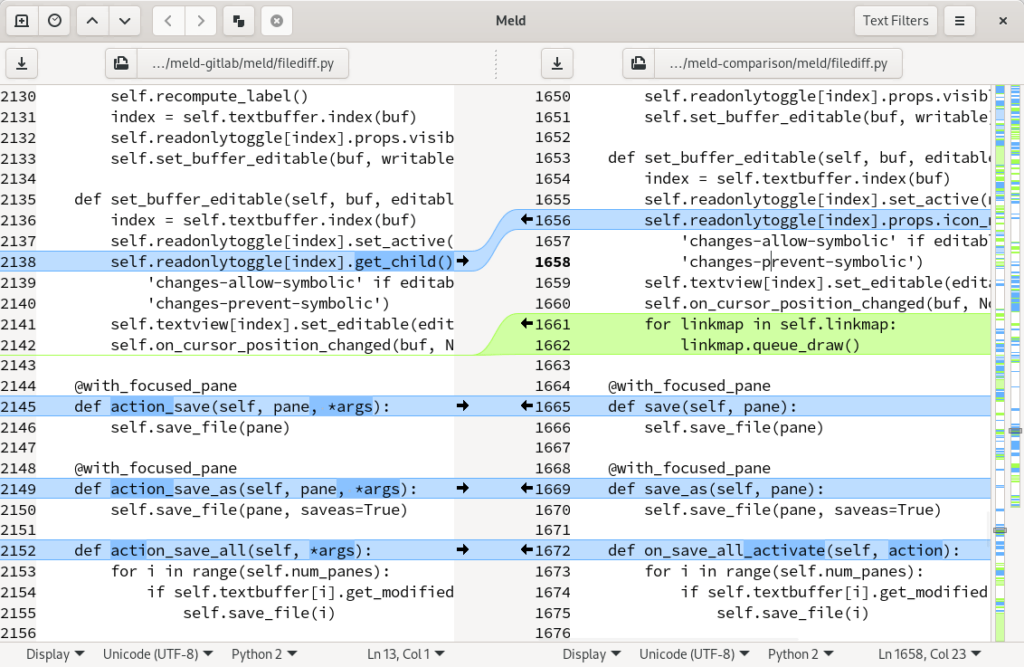 Meld is an open-source text comparison tool. It is an open-source project with global contributors. Meld has functionalities that are key for text comparison in most professions. For example, if you want to compare two documents, you can easily do it in Meld. It also marks the differences with color making it easier for you to make the comparison.
You can use the regex feature to ignore the text differences you do not want to touch. Meld can also compare folders. Moreover, It also lets you compare three documents and edit them to suit your needs.
Pros
Can compare three files at once.
You can edit the documents on the go and merge them inside the tool if needed.
It also supports folder comparison along with texts.
You can manage the files on your folders when comparing a set of documents.
Cons
Available for only Windows and Linux.
You need to download it to use.
Design is heavy and is built for tech-savvy users.
Pricing
Meld is an open-source project and free to use.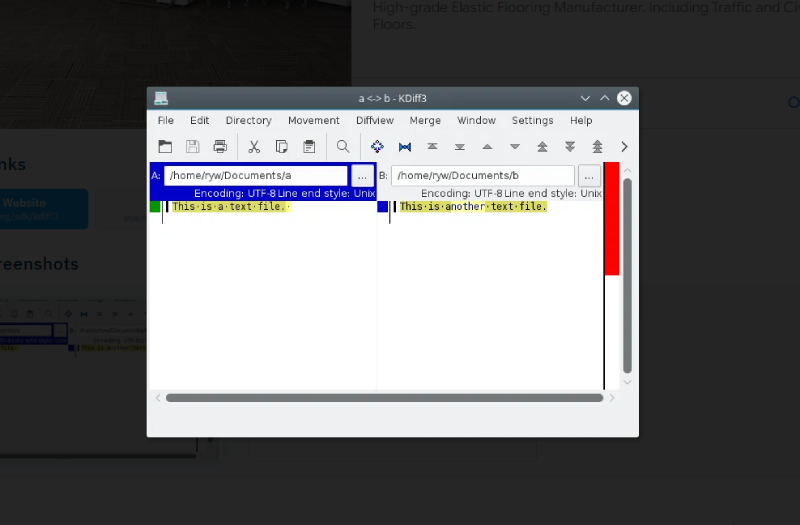 KDiff3 is another open-source text comparison tool you can use to upload and compare texts. It will let you compare your text side-by-side once you upload them. This text comparison tool can also highlight the differences in your texts and merge them. This tool consists of a native editor for you to edit your files without going back to another editor.
It supports Unicode, UTF-8, plus KIO on KDE for you to access fish, stfp, smb, etc. If you want to print out the differences in your texts, you can do so with this tool. Also, most importantly, it has version control for you to see and merge the different versions.
With a great user interface, KDiff3 is an intuitive and easy-to-use tool.
Pros
Customizable interface.
Supports up to 3 different file comparisons on a single window.
Merge facility.
Great UI and user experience.
Loads of features such as Windows explorer integration, plugins, etc.
Cons
No images compare.
Problems when the file is very large.
Very hard to install on Mac OS.
Pricing
KDiff3 is Open Source and free to use.
WinMerge is an open-source tool with extensive features for comparing your text files. You can use this tool to compare up to three files at once. In addition, you can compare, edit and merge files within the tool and view the difference in two vertical panes.
It comes with a very good interface that can be localized and used in various versions of Windows. It highlights the differences in the texts and helps you identify and correct them. A professional tool that is native to the Windows ecosystem.
Pros
Three-way comparison of text files.
Supports a range of file formats.
Supports plugins.
Visually pleasant and easy to use.
Cons
You can only use it in Windows OS (Windows XP and above).
Pricing
WinMerge is Open source and free to use.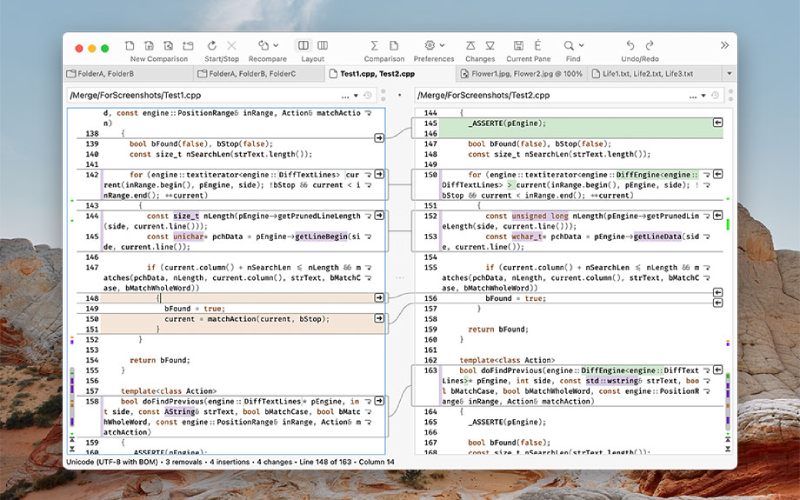 Araxis is a text comparison tool that is much easier to use and compare your texts. You can simply accept the changes, edit them and merge them. It also supports folder comparison along with file comparison. It is professional and very easy to navigate.
It is designed and targeted to professionals such as writers, developers, QA teams, and legal professionals. It is one of the tools in this list that we can call 'Fit for all.'
Pros
Supports different file formats such as XML, codes, word documents, PDFs, Excel, etc.
It can be edited and merged in the same place.
Supports up to three files comparison at once.
Cons
Not a very good tool for comparing visual files such as images.
You need to install it on your computer to use it.
Pricing
Araxis is a paid tool with a one-time payment of $119.
85% educational discount is also available.
Product licenses are free for Open Source Contributors.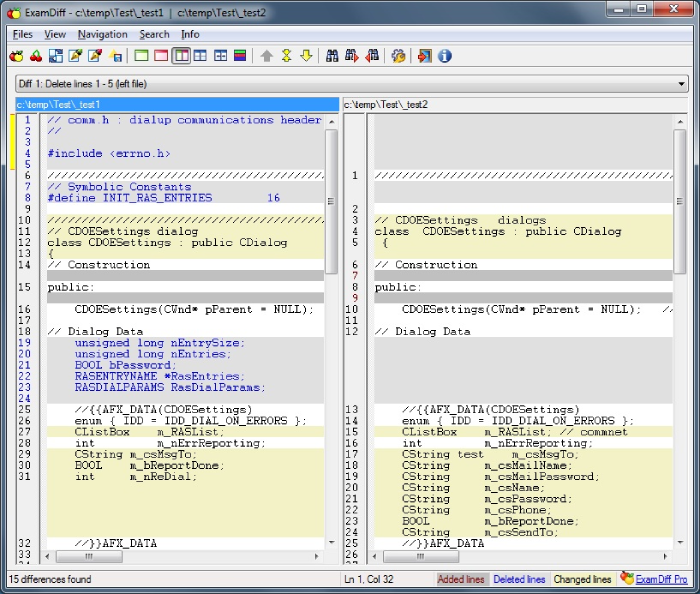 ExamDiff is a file comparison tool that is straightforward to use. Unlike other tools, it does not spend more on looks but does so on functionality. For example, it automatically detects any differences between your files and highlights them to you for action.
You can search files by filename and directory name within the tool. It also lets you use the Auto Pick feature, which pulls up matching files and lets you manage them. The tool also suggests any undetected changes and asks you to go through it again. All in all, this tool does not waste your time in getting the work done straight.
This tool also has a drag-and-drop feature, which is handy when you want to work on a few files at a time. It lets you view the files separately, swap them and save them afterward.
Pros
Does support a range of file formats.
Has several features that are not available on other tools.
The Pro version extends its features to support using plugins, Unicode, merging, and three-way comparison among files.
Cons
Available only for Windows OS.
Have to upgrade for some key features like merging.
Pricing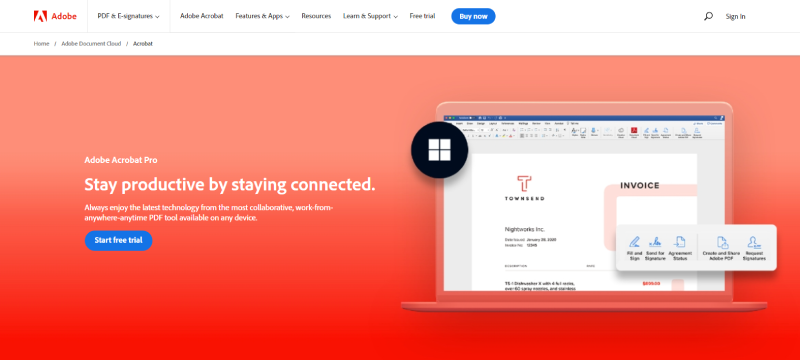 Adobe Acrobat Pro DC is another great tool from Adobe. This lets you compare and track the differences, especially in PDF files. You can compare texts side by side and revisions, helping you to spot the changes.
It is one of the best text comparison tools on this list because of its user interface and the ability to use filters to compare differences in text, images, and other elements.
This tool was specially designed for PDFs and is the best tool you can use if you mostly work with PDFs.
Pros
Very good User Interface.
You will love the editing experience.
Various tools.
Available for Mac and Windows.
Cons
Linux is not supported.
The free version already offers most of the functionality.
Pricing
The price for the Adobe Acrobat Pro DC version is $179.88/yr. Also comes with a free version called Adobe Acrobat DC.
Compare Suite is another text comparison tool loaded with many advanced features. Although it is specially made for offices and office workers, anyone can use it if needed. Some smart functionalities such as search by keywords and excel sheet comparison are available in this tool. It also works best with multiple file formats.
It will point out differences and highlights them for you to edit. Also, this tool can differentiate between numbers and dates and update them. If you frequently need to compare texts and need a reliable tool to work with, Compare Suite is the one you will like.
Pros
Great functionality, such as keyword comparison or syntax highlighting.
An essential tool for office workers.
Supports different file formats such as PDFs, .docx, .ppt, excel files, and more.
Cons
Complicated interface.
Bulky and expansive.
Pricing
The price for Compare Suite is $70 for a one-time payment. Also, there is a free version with limited functions.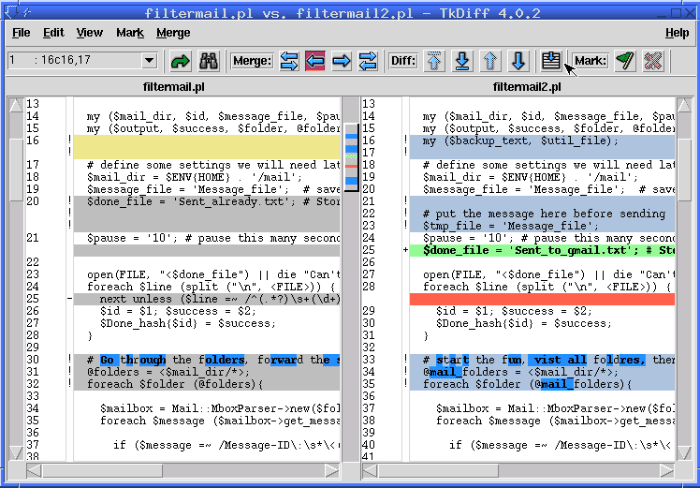 TK Diff is a simple text comparison tool that works smoothly and elegantly. It is a straightforward tool that gets the work done. Simply pick the files and start comparing them. It will let you know about the differences by highlighting the texts in difference. You can view both the files together on split screens.
TK Diff works with text format files. Therefore, you do not have to be professional to handle it. It needs no training, and the UI is very simple to understand.
Although it is an open-source tool, it only works with Windows with low memory consumption. It can handle large data quite easily and merge the files you want. It also has a basic editor; you can edit your texts before or after comparing them.
Pros
Simple interface.
Light and fast tool.
Supports Windows OS.
Does merging and highlighting the differences.
Cons
Only works on Windows.
Not every file type is supported.
Pricing
TK Diff text comparison tool is open-source and free to use.

DiffNow is an online text comparison tool. You can simply go to the site and start comparing your texts. A wide range of text documents are supported by this tool, for example, HTML, Javascript, Java, plain text, and some more.
You can also upload your files directly and start to use them. You can choose and ignore the suggested differences as long as you do not want them.
This is a very easy-to-use tool and is often the go-to for many programmers and coders. In addition, the incredible support for different file formats makes this tool a big winner in this list of best text comparison tools.
Pros
Intuitive UI design.
Very fast and responsive tool.
Hidden functionality.
Online access
Cons
The free account is limited to 20 comparisons per month, which is less for any professional.
Pricing
You can have a free account of DiffNow or pay $3 per month for a premium account.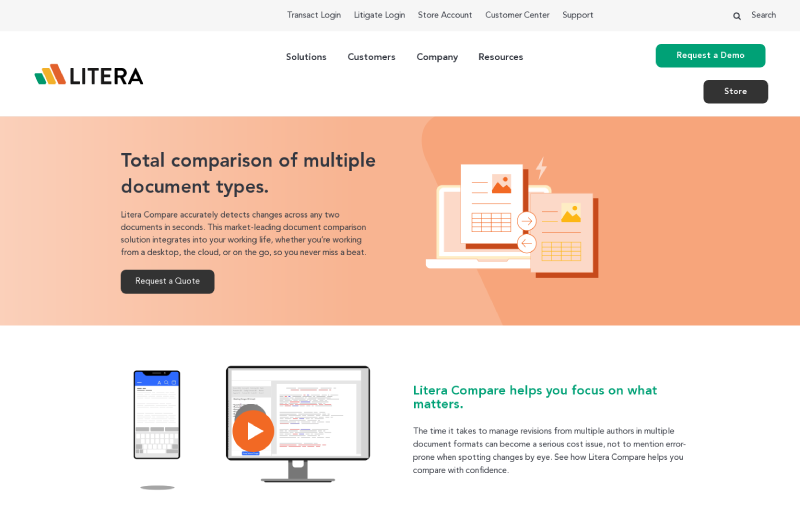 Litera Compare is a very flexible text comparison tool. It supports multiple file formats and works on various web, desktop, and mobile platforms. So, if you are a frequent traveller and want to use the text comparison flexibly, this tool checks all the boxes.
Litera Compare does all the comparison tasks such as highlighting, revisioning, accepting and rejecting the changes, and more. In addition, you can check PDFs, code files, spreadsheets, and other embedded objects.
The instant analysis of the texts and its intuitive user interface makes it one of the best text comparison tools on this list.
After comparing the files, you can merge or save them for later access. You can also print them out or email them to your colleague.
Pros
Very intuitive UI/UX.
Flexible like no other tool.
Supports multiple file formats.
Efficient workflow.
Cons
Expensive than other tools.
Pricing
The price for Litera Compare is $340 per user per year.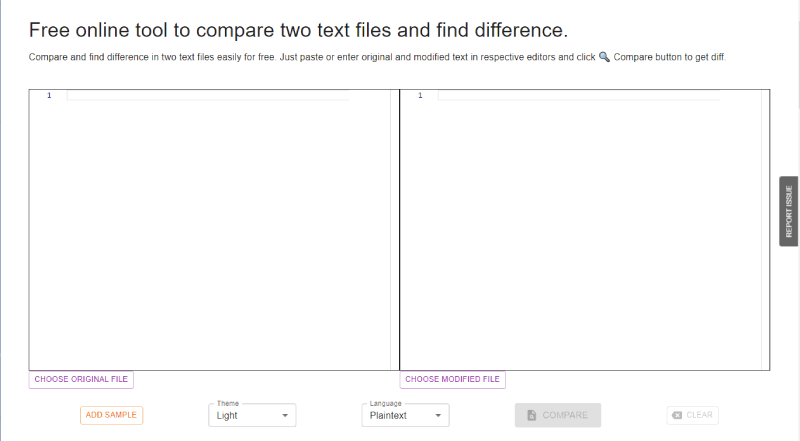 Text Compare is as simple as it sounds. Built for heavy writers such as bloggers and professional writers, this tool has all it takes to be the best text comparison tool. With a straightforward approach to comparing texts, you can simply paste your texts and click 'Compare,' and boom, your comparison is ready within seconds. You can review this comparison in the tool or email the comparison to other people.
Since it is built for writers and bloggers, it does lack some other features like comparing PDFs, excel sheets, and some other types of files. But this is the best tool you can use if you are a heavy writer and do not work with other types of files. TextCompare can be a handy tool if it comes to just comparing texts and not much.
Pros
Great user interface.
Simple and friendly.
Works best with text files.
Best for bloggers and writers.
Supports Windows, Linux, and Macs as it works on web browsers.
Cons
Does not supports file formats such as spreadsheets and PDFs.
Pricing
TextCompare is free to use on browsers.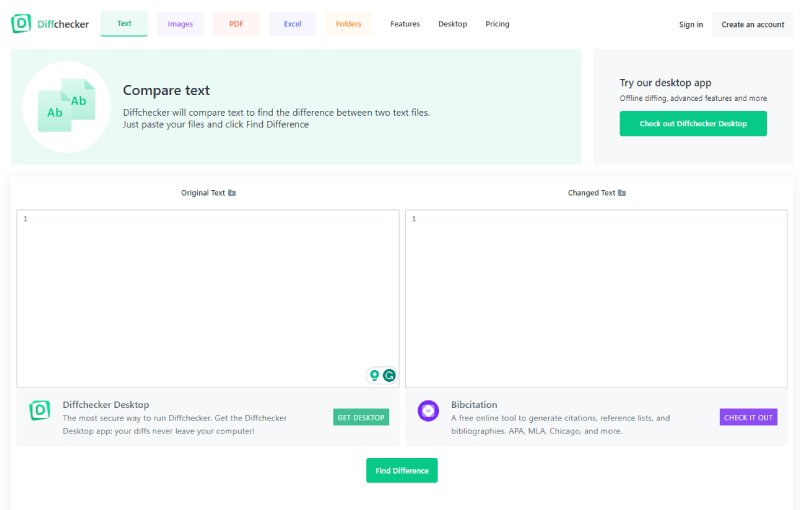 Diff Checker is one of the best comparison tools for PDFs, spreadsheets, and images. But it does work with text file formats too. This tool is an online+offline tool and is very easy to use. You can open this tool simply on your browser, paste your text and start comparing them.
And if you do not want ads, you can download the desktop version of the tool and start using it. The OCR technology in this tool also enables it to check PDFs.
You can use the clean UI and multiple views to compare the differences between your texts more clearly and easily. This tool supports various file formats as well.
Pros
Great UI and functionality.
Support for images, texts, spreadsheets, and PDFs.
It can be used both online and offline.
The desktop version also lets you compare entire folders.
Cons
The desktop version is paid.
The app is slightly sluggish at moments.
Pricing
The free version of Diff Checker is available. You can upgrade to Pro for $8 per month. The Desktop app costs $12 per month.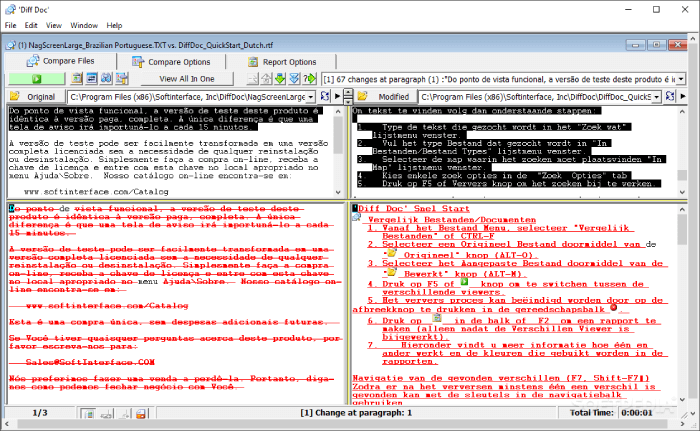 Diff Doc is another simple text comparison tool that is fast, reliable, and accurate. It can compare different file types and also supports folder comparison. In addition, it shows the difference between your files and folders in its two side-by-side comparison modes.
The user interface is not complicated, and anyone without experience can use it. You will also get different reports which will help you understand what has been changed between the two files you are comparing.
This tool can be downloaded to your computer and used with ease.
Pros
Simple to use.
Supports multiple file formats.
Shows comparison side by side.
Highlights the differences.
Cons
Works only on Windows.
Does not have more functionalities like other tools.
Pricing
Diff Doc is free to download and use.
Frequently Asked Questions (FAQs)
What is The Best File Comparison Tool?
There are various file comparison tools on the market. Of course, the best one may be different for the different professions as the type of work and frequency of the work done on the tool defines it. But for the most part, Araxis can be said as the overall best file comparison tool for most professions.
Can Notepad++ Compare Files?
Yes, you can compare two files in Notepad++. Just open file A (Old One) and file B (New One), and go to Plugins >Compare Menu > Compare. It will then show you the comparison of both files on a side-by-side pane.
How Do I Add Compare In Notepad++?
You can simply go to PluginsAdmin from the Plugins menu > Select Compare plugin > Click Install. That's all; you added the Compare plugin in your Notepad++.
Conclusion
Therefore, we created this list to let you know the 15 best text comparison tools that can make your work easier. Text comparison tools are becoming increasingly important in today's world as more people started working from home. Also, the need for more text content is becoming obvious as the internet grows. Therefore, the more text gets written, the more the need for text comparison tools arises.
So, if you need a text comparison tool, these are the best ones we have used. You can simply choose the best fit for you and go for it.